Why Marvel Fans Are Pissed About Magneto in 'Secret Empire'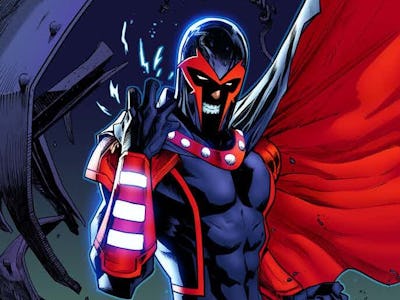 Marvel Comics
How does a Holocaust survivor end up joining a neo-Nazi group? The villain variant cover by Dan Mora for Marvel's Secret Empire #5 — which features a helmet-clad Magneto gritting his teeth and tearing apart machinery — revealed that Magneto will be siding with Hydra in the upcoming Secret Empire series. He'll act as one of "Hydra's secret weapons in the war against the super heroes." And Marvel fans are not happy.
Hydra, Marvel comics' villainous organization founded by Nazis during World War II and led by the infamous Red Skull, was recently revealed as having control of Steve Rogers's Captain America. The public fallout in May 2016 — of a superhero who's always stood for the best of America turning out to be a neo-Nazi — was significant. The comic book world and the internet at large lost their collective minds.
The newest crime in the eyes of comic book fans comes in the form of Secret Empire's plot that Magneto, a Holocaust survivor whose family was brutally murdered by the Nazis, is allying himself with Hydra, a Nazi regime. People are pissed and more than happy to let everyone know they are.
Marvel fans on Twitter reacted immediately and violently to the news. The overall consensus was one of disbelief and outrage toward Marvel and Secret Empire writer Nick Spencer.
Secret Empire #1 is due on shelves May 3.