Chicago's Snowless 2017 Is Proof That Climate Change Is Here
The Windy City is weirdly a pleasant place to be, and that's got climatologists concerned.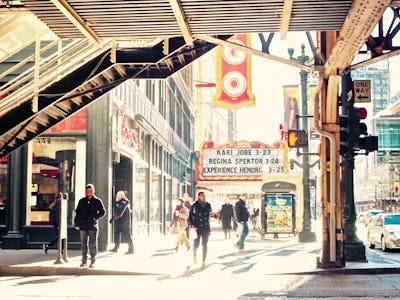 Flickr / gregorywass
Chicago winters are infamous for their brutality, with the kind of bone-chilling freeze and face-slapping wind that induces fear amongst even the hardiest, most rugged humans. January and February — the depths of winter — are when Chicagoans can expect piles of snow, "black ice" (dangerous sheets of ice that slick streets and fool pedestrians and cars into skids), and Arctic winds plummeting temperatures into the negative zone.
Except … that didn't happen this year.
The winter of 2017 will go down in history as the first in 146 years of weather data collection that there were no recorded estimates of snow on the ground in January and February. That's huge: It not only means temperatures never fell enough to alter rain into flakes of snow, but that the ground was never cold enough to support snow cover.
In fact, the winter of 2017 has been outright balmy, with stretches of 70-degree days that incited people to showcase their pasty legs in shorts, residents scooping up ice cream and hitting the golf course and jogging outside — all in a time of year where the last thing any rational human would want to do is be outside.
It's not only cause for concern, but also definitive proof that climate change is happening, worrisomely fast and furious.
Meteorologist Tom Skilling told the Chicago Tribune that this isn't necessarily the way Chicago winters will be going forward, calling 2017's "non-linear." He did, however, blame climate change for the bizarre spring-like feel.
January and February flew by without measurable snowfall. And if patterns hold up, Skilling doesn't foresee March having much — if any — snowfall. "Warm as it's been, we're not out of the period where it's inconceivable to have snow," Skilling cautioned. "The rain shower in the morning could turn into snow in the afternoon."
But it's not out of range for 2017 to potentially be the year Chicago skipped winter.
That might be a pleasant surprise for Chicagoans who normally hibernate during the freezing stretch of winter, but climatologists have expressed concern about the spike in warmth. Warmer temperatures mean plants are budding early, kicking off the plant growth cycle a full two months earlier than they should be.
"The biggest issue is because it's been so warm all through the winter, it's really encouraging the trees and shrubs and perennials to come out a little bit too early for their own good," Jim Angel, a climatologist with the Illinois State Water Survey, told the Tribune. "For example, we might have fruit trees that might be in dormancy right now, leaf out and their buds will start to swell and open and that makes them highly vulnerable to frost later on."
That's something to keep in mind and worth repeating: Just because there hasn't been any snow on the ground the past couple months doesn't rule out a debilitating frost that could alter normal springtime migration and agricultural patterns. In plain English, that means that spring produce could spike in price, roadkill goes up with confused animals seeking food that's just not there yet, and a drought could take hold later in the summer. There's a social impact, too, with gun violence in America's most violent city booming.
So for anyone thanking their lucky stars that this winter was a mild one, maybe don't. And for anyone thinking it's just a quirk, it's important to remember that a snowless winter in the Midwest just fucked up a series of time-honored natural cycles that are sure to reverberate beyond the Second City in 2017 and beyond.