'Doctor Who' Trailer Reimagines the Time Lord, 'Logan'-Style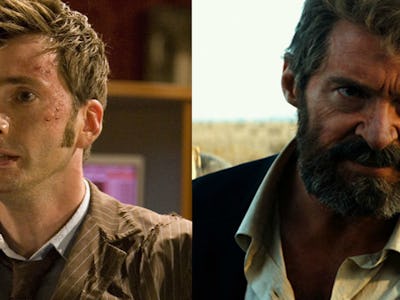 BBC America/20th Century Fox
The Doctor may not have Wolverine's adamantium skeleton or claws, but the titular Time Lord of Doctor Who suddenly has a lot more in common with the star of Logan than ever before.
YouTube user VG934 reimagined one of Doctor Who's most iconically heartbreaking episodes, "The End of Time," in the style of an equally heartbreaking story, the X-Men franchise's upcoming Logan.
Logan's first teaser trailer garnered immediate fame for the use of Johnny Cash's "Hurt" to portray not only Logan's exhaustion and pain but also his fear. The comparison between Logan and "The End of Time" feels alarmingly fitting due to both marking the ends of their characters' times with their respective franchises: David Tennant's 10th Doctor in Doctor Who and Hugh Jackman's Wolverine in Logan. That is, discounting Tennant's role in "The Day of the Doctor."
In the fan-made trailer, the 10th Doctor poses as Logan, companion Donna Noble's grandfather Wilf takes the place of Dr. Charles Xavier, and the Master is the evil force coming after the Doctor, turning his life on its head once again.
Considering that the story of "The End of Time" revolves around the extinction of a race of non-humans (Time Lords vs. mutants), this reimagining is even more accurate. So while this isn't the first Logan-inspired remake of a popular TV show or movie, it might be the most fitting one yet.