David Tennant Thinks 'Doctor Who' Season 11 Will Be the Best Yet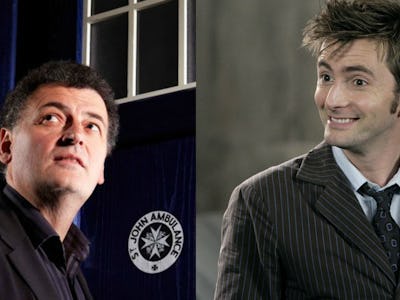 Radio Times/BBC
The 10th Doctor has given his blessing to Doctor Who's future powers that be. Chris Chibnall will replace Steven Moffat as Who's showrunner starting in Season 11 — and the former 10th Doctor, David Tennant, thinks there's no better man for the job.
Tennant, when asked about Chibnall replacing Moffat as Doctor Who showrunner, said that Chiball was "possibly the only choice."
"I think it was an inevitability that the world would turn to Chris," Tennant said. "It's a big, massive, difficult job and it needs someone who is as enthusiastic and talented as Chris."
The transition to Season 11, he said, will "go from strength to strength. It's nice to know it's in safe hands because it's such a prized property."
Tennant, a Who fan since long before he was cast as the 10th Doctor, hasn't been involved with the show since 2013's "The Day of the Doctor" 50th-anniversary special. But as the long-standing fan-favorite Doctor (a title that also, arguably, belongs to Matt Smith's 11th Doctor), people are bound to turn to him anytime a big changeup occurs.
And while Tennant didn't work frequently with Moffat, who took over as showrunner after Tennant left Who, he's certainly done a lot of work with Who's upcoming showrunner on Broadchurch, as it was created and written by Chibnall.
The two most common fan complaints about Moffat — that his larger story arcs lack backbone and that he can't write women — probably won't be a problem for Chibnall. Broadchurch Season 1 was nominated for 7 BAFTA awards and if Ellie Miller (played by Olivia Colman) is any indication, fans are in good hands with Chibnall.
It's all the more reason to cast a woman as the next Doctor and all the more reason to be excited about Season 11.
Doctor Who Season 10 — Moffat's final season as showrunner — premieres April 15.