Marvel Has Tons of Video Games Planned and They're Not Canon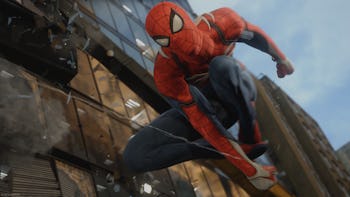 Marvel, Insomniac Games
If you plan on playing any of the Marvel video games coming out this year, don't be surprised if the stories in the game diverge from the MCU.
Speaking to IGN at the annual DICE video game awards show last week, Marvel Games Creative Director Bill Rosemann said upcoming video game titles like Guardians of the Galaxy: The Telltale Series and Spider-Man for the PlayStation 4 won't be forced to conform to the existing Marvel movie narrative. This means video game developers are free to pursue whatever wild Marvel superhero stories their hearts can dream up, instead of creating video game translations of, say, Avengers: Infinity War.
"We want to give our partners…freedom to look at all of Marvel history and to pick from what interests them," said Rosemann. "It's a bit like we're saying, 'Hey you're the chef, you're going to make this meal. Here's all of the ingredients. You pick the ingredients that you like and make a new meal."
Luckily, developers will have their pick of ingredients. In addition to the two previously mentioned Marvel video game titles, there are several other projects in the pipeline including the fighting game Marvel vs. Capcom: Infinite, and the untitled Avengers project from Square-Enix. Also, who knows how many more unannounced titles Marvel has yet to reveal, with any number of them allowed to explore Marvel characters and stories not yet introduced in the films.
Marvel owns some of the hottest licenses around, and their decision to give video game developers this kind of creative control is a tantalizing prospect. Imagine a Thor fantasy RPG from developers like Mass Effect's BioWare, or a Black Widow first-person shooter spy game from the Titanfall 2 Respawn team is almost a surreal possibility — if it weren't for the fact that Rosemann and the Marvel Games team seem content giving developers free reign on Marvel IP.
There is a little catch however when Rosemann explained that Marvel is constantly conscious of the audience, saying that he wants video game projects, for example, Telltale's Guardians of the Galaxy, to be "familiar to people who have seen the movie." This doesn't necessarily contradict Rosemann's previous statements, as it could refer to more of a general "tone" for the games instead of story plot beats.
In that regard, Telltale Games, who have proven to be expert storytellers through games like The Walking Dead and Batman will surely have no problem capturing the wisecracking, rogue spirit of the Guardians of the Galaxy.
Ultimately, Rosemann expressed the utmost confidence in their video game partners, and will surely choose the right developers for the right project. "[Marvel's] also not going to try to do the very tricky balancing act of trying to make a game that adapts a movie and get it out in the same window as the movie."