'Pokemon GO' Players Are Buzzing About a Possible Update
Pokémon Day has ushered in more than just celebration.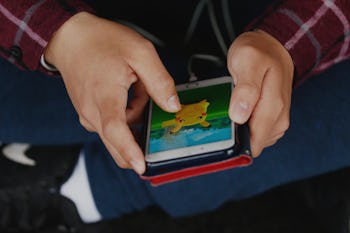 Getty Images / Brendon Thorne
The first set of Pokémon games burst onto the scene 21 years ago today, and to mark this anniversary, February 27 is now "Pokémon Day," a new gamers' holiday where trainers around the world have a chance to participate in several in-game and online events across Pokémon's channels.
Leading the charge is Niantic's Pokémon GO, where players will have a chance to catch a special Pikachu wearing a festive party hat in the wild up until March 6.
But trainers are hoping for more than just festive party hats — as chill as they might be — because on Monday, many were investigating the possibility of an update on the heels of Thursday night's DICE awards.
A Reddit user by the name of Ixameh pointed out that in a video on IGN's Snapchat, two Niantic employees were thanking fans for their support after Pokémon GO won the mobile game of the year award before prompting fans to "save their candies" with a wink and thumbs up in the end of the clip. Watch below:
Meanwhile, fans of the competitive Pokémon scene can tune into a Pokémon Day Twitch stream, which is an all-day celebration of Pokémon competitions looking back on memorable, epic matches from the Pokémon TCG, video games, and Pokkén Tournament from the past few years.
Along with Pokémon Day comes a series of collectible figures too, featuring Eevee, Mew, Magikarp, and Pikachu performing their signature moves to kick off the Gallery Figures collection in the Pokémon Center. And if you're in the mood to watch some of the classic Pokémon movies from your childhood, Pokemon TV has you covered too.
Based on Pokémon GO's previous event rewards, a double experience event seems like the perfect fit for Niantic's calendar. Since Halloween brought double candy followed by double experience on Thanksgiving, followed by the special Holiday event and double candy once again during the Valentine's Day event, it makes sense to fill in the next event gap with a double experience bonus for players on either St. Patrick's Day or Mother's Day.
We could see an announcement as soon as Tuesday during Mobile World Congress, where John Hanke — the creator of Pokémon GO — is scheduled to speak in Barcelona.
So, if you're looking to take advantage of a possible experience boost in the near future, be sure to start saving up candies in Pokémon GO!