People Are Freaking Out About the Oscars Bus Tour Stunt
Gary from Chicago and his wife were the real winners of the night.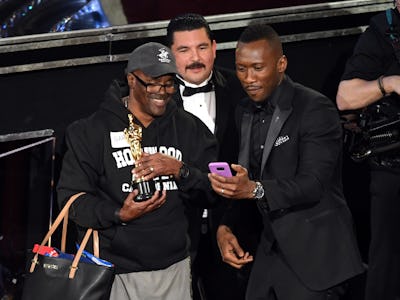 Getty Images / Kevin Winter
Questions about Jimmy Kimmel's hosting style were best answered by two things: his candy-from-the-sky stunt and the tour bus bit. Despite ACLU ribbons, Mel Gibson being onscreen (seemingly) every two seconds, and Sunny Pawar reenacting a scene from The Lion King, Kimmel's tourists stole the show.
A door slid open halfway through the 2017 Academy Awards to reveal a bus-load of wide-eyed tourists clutching selfie sticks and clad in casual wear, as one would expect from people on vacation. The group was quickly ushered into the room by Kimmel and introduced to the first few rows of nominated celebrities — Denzel Washington "officiated" a wedding, Meryl Streep got a kiss on the hand, Jennifer Aniston gave her sunglasses to a random person, and "Gary from Chicago" and his wife stole the show.
No one in the tour group seemed all that surprised, considering their "randomly" showing up at the Oscars — the lacking reaction prompted people online to wonder at whether or not it really was a surprise. Perhaps they'd been prepared, some wondered.
Opinions were sharply divided on the stunt. It was either brilliant or callous, but one thing everyone could agree on: Gary Allen Cole from Chicago won the Oscars.
While others were either somewhat amused by the bit or … not really feeling it. Having a bunch of "normies" in a room with super-famous people felt a little exploitative to some. But it was definitely still worth talking about.