Why Actors Are Wearing Blue ACLU Ribbons at the Oscars
Celebs standing up for the ACLU and immigration rights.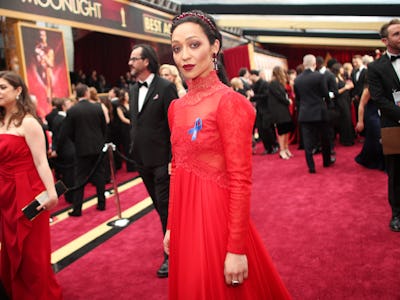 Getty Images / Christopher Polk
The Academy Awards red carpet was dotted with blue on Sunday night as celebrities showed their support for the work of the American Civil Liberties Union (ACLU) by attaching small, blue ribbons to their dresses and lapels.
Lin-Manuel Miranda, alongside his mom, Luz Towns-Miranda, wore a ribbon in support of the ACLU — Miranda is nominated for Best Original Song for Moana's "How Far I'll Go." Early on in the night, Miranda (and his mom) was joined by Ruth Negga (nominated for Best Actress for Loving), Karlie Kloss, and Busy Philipps in joining ACLU ribbons.
The ribbon acts as a symbol of people's supports of the work the ACLU does for immigrants and their civil liberties.
"I'm wearing an ACLU ribbon because they're fighting incredible fights right now for American ideals," Miranda said.
"The support of the entertainment community for the ACLU's work protecting our civil liberties has been nothing short of spectacular, and tonight is no exception," Anthony D. Romero, executive director of the ACLU, told Inverse in a statement. "Their voices are crucial in our fight to defend the Constitution and its promise of equality and justice for everyone in our country, no matter who they are and where they come from."
No doubt, more actors will speak out throughout the night in order to show their support for immigrants and their plights. The hashtag #AndTheOscarGoesACLU is tracking the silent form of activism on Twitter.
Ruth Negga
Karlie Kloss
Lin-Manuel Miranda (and his mom)
Busy Phillips