The Late Bill Paxton's Run-Ins with Terminator, Alien, and Predator
It's a unique acting achievement.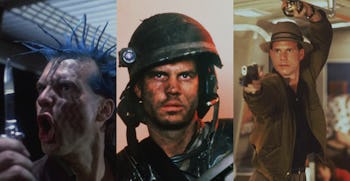 Bill Paxton died on Saturday from complications during surgery. The 61-year-old actor starred in dozens of films, memorably playing characters who met their untimely end with some of modern science fiction's biggest, baddest monsters.
In 1986's Aliens, 1990's Predator 2, and 1984's The Terminator, Paxton portrayed outmatched but courageous (or maybe just hubristic in the case of Terminator) characters.
Fans of Paxton's roles have taken to social media to share their grief over his death and admiration for his roles in R-rated science fiction, which often closed with some unforgettable last words.
"I think this guy's a couple cans short of a six pack," he says as the leader of a punk gang about to be terminated. "Fuck you asshole!" He's quickly thrown into a metal fence.
"Come on your bastards! Oh, you want some of this?" he challenged the alien when playing Private Hudson in Aliens. "Fuck you!" with "Yaaaargh!" and he's pulled into a hole in a spaceship.
And finally, his character's last words in Predator 2 became iconic for their humor and bravery, uttered by his character Jerry Lambert when he's face to face with the film's titular translucent super alien:
"Come on motherfucker, let's dance!"
Few could match the way his characters died onscreen.
On Sunday, Paxton's family released the below statement to TMZ:
"It is with heavy hearts we share the news that Bill Paxton has passed away due to complications from surgery. A loving husband and father, Bill began his career in Hollywood working on films in the art department and went on to have an illustrious career spanning four decades as a beloved and prolific actor and filmmaker. Bill's passion for the arts was felt by all who knew him, and his warmth and tireless energy were undeniable. We ask to please respect the family's wish for privacy as they mourn the loss of their adored husband and father."
Paxton recently starred in Agents of S.H.I.E.L.D. and had been rumored to be part of another Alien sequel.
YouTube user Uncle Fester was kind enough to compile a supercut of Paxton's three famous death scenes.
Beyond these three films, Paxton will be remembered for his wide range of film and television roles. He acted in Twister, True Lies, Apollo 13, and the Training Day TV series, among many other films and television programs.