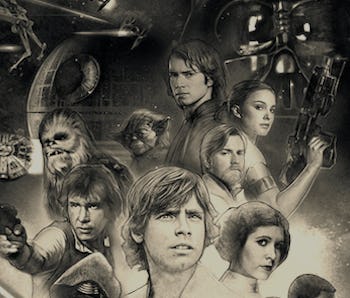 Entertainment
'Star Wars' Celebration Poster Excludes 'Rogue One' and Lando
Jyn Erso may have lead the charge to steal the Death Star plans, but it's not like she and her buddies are actually remembered as the most important galactic heroes in Star Wars. The new 2017 Star Wars Celebration, commemorating 40 years of a galaxy far, far away only had room for characters who are part of the main saga films, but excluded Rogue One characters, and weirdly, Lando Calrissian, too.
On Wednesday, Lucasfilm released the poster art for the annual Star Wars Celebration convention, which will take place this year on April 13 - 16 in Orlando, Florida. And because 2017 is the 40th anniversary of the release of the first Star Wars film, the art for the Celebration reflects a unity of the entire saga. Everyone is featured: Luke, Leia, Han, Chewbacca, Rey, Finn, Poe, Kylo Ren, and all your other favorites like General Hux and Captain Phasma. Wait. Is Lando not on here? Yeah, despite being in two of the classic trilogy films and being a bigger deal than Poe, Hux, and Phasma combined, Lando Calrissian didn't make it onto the big birthday celebration poster.
The absence of Lando and the entire Rogue One squad is a little weird, if only because a few of the characters included instead seem sort of arbitrary. No matter how much I might love to say "careful Ren" in bratty voice, General Hux is just not as classic of a character as Lando, or honestly, even the much newer Jyn Erso. To be fair, last year's Star Wars Celebration poster featured pretty much the entire cast of Rogue One, which made sense since the movie was coming out last year. So, assuming Hux and Phasma are a big deal in The Last Jedi, their inclusion here makes sense because it's 2017, and presumably they'll be in the new film.
It's a beautiful poster for sure, and who doesn't love all the classic characters depicted? But if it's supposed to be a celebration of the entire saga, it feels strange to exclude the man who actually destroyed the second Death Star and who is making his comeback in 2018 in the Han Solo movie.
Maybe Star Wars Celebration will issue a second 40th Anniversary poster to include characters left off the first time. In it, Lando can have a party with Jyn Erso, Wedge Antilles, and everyone's favorite sad clown, Jar Jar Binks.