New Romancer: The Queen of 360-Degree Porn Shows Us Her Kingdom
"We want to create an immersive, empathetic experience."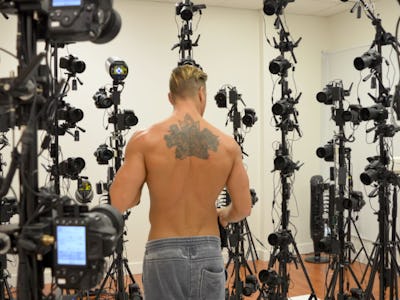 Commonly associated with its evocative wilderness or functioning socialized healthcare system, Canada is also home to an entertainment studio leading the way in virtual reality pornography. The adult entertainment world is notoriously quick to adopt emergent technology, and virtual reality is the clear standout for what's next.
Anna Lee, whose adult entertainment career stretches some 18 years, steers British Columbia's HoloFilm Productions as director, producer, and executive producer. She declines credit for producing the world's first VR adult film in 2015, but readily identifies as "among a group of the first" to bring the niche content to the niche medium. It was an experimental effort that has since grown into a full-time media production business pursuit, and it's going well lately: last month the Adult Video News Awards recognized HoloFilm as the best VR studio of 2017.
Lee caught up with us over the phone to share her unusual journey from theater school to techno-kingpin of the adult entertainment world. To hear her tell it, virtual reality porn will do nothing less than reshape the human mind.
Are many porn directors female?
We're still in the minority, but the number of female directors is growing. Times are changing: women are assuming more powerful positions in the adult industry, and there's a lot more female-friendly porn being offered.
I started as a director in mainstream film. I went to film and theater school and opened a porn company in order to finance my education. That company took off and led into my adult career in virtual reality. In 2015, the two collided, giving me the opportunity to direct.
Sorry, you opened a porn company to pay for college?
Yes, Courtesan Entertainment. This was back in the early to mid-2000s when I was in university. I was hanging out with friends from acting class when one of them said — and this is a verbatim quote — that "it'd be cool if we had a way to make 'hooker-money' without actually being hookers."
I started researching phone work on my own, then I met a girl with the stage name Jezebel who introduced me to the whole thing. I said, "You know what, I can run this." I hired the girls from my acting class to put together this company, and it paid for school. I have no student loans; it's wonderful.
How did you transition from running a phone sex company to directing virtual reality porn?
[I sold my company to an adult virtual world called Red Light Center, and] we were experimenting with VR technology to see how it might fit into our business. We made a virtual replica of [celebrated porn star] Tera Patrick, complete with body scans and motion capture, and we put a copy of her inside the virtual world. The whole idea was that you could go interact with her in VR: have sex with her, dance with her, go on a date with her, whatever. When the first Oculus developer kit came out, we went to the AVN Awards and introduced our adult virtual world that you could navigate through a VR headset.
We kept getting feedback like, "This is so cool and so real, but man, I wish it were live action." We took that feedback to heart, did some research, paired up with someone who had a 360-degree camera, and went to the San Fernando Valley in the summer of 2015 to make our first VR porn.
What are the production logistics on a VR set?
It's not just the action in front of you — you're looking at the entire room. You know how mainstream filmmakers make that rectangle with their fingers? They're looking at the frame. But in VR, that frame doesn't exist anymore. Now we're talking about a frame that is an all-encompassing dome. So where am I going to put my lights? Where am i going to put my stuff? You have to take into account every single item that is in the room.
More important than what appears on screen is: How do those things make the viewer feel? When you shoot something in VR, you're creating an experience for the viewer where their aspect lives. How dim are your lights? What kind of mood are you trying to set? Subtle things translate to an emotional response.
The golden ticket to VR is to create an intimate experience in which you are fully involved with the viewer in some capacity. We want to create an immersive, empathetic experience for the viewer that engages them in a way that regular film does not.
How is a VR set different from a conventional set?
Prior to this, I'd only been a producer on mainstream sets. I'd been on porn sets as a casual observer before, but this was my first time as a porn producer. So there's that. Then you've also got the challenge of learning this brand new technology, and shooting something that you've never actually seen before!
It was one full day on set in the Valley and it was trial by fire, learning fast and making some expensive mistakes right off the hop. I was fortunate enough to get to work with Manuel Ferrara, who had just won Performer of the Year. For my first go-around in VR porn, I got to work with some of the very best.
How will virtual reality pornography change our brains?
Anyone who's had an experience with psychedelics will understand. There's a layer of the world that, when you see it, it can't be unseen. The same applies to VR. The world has extra color to it.
Virtual reality will evolve our way of thinking if it hasn't already. I was doing a demo at a strip club when a guy in a wheelchair came in and I showed him our stuff. He loved it because he is not capable any longer of having a physical relationship with a woman in that way. But for those 20 minutes in VR, he was able to simulate that relationship.
I don't pretend to be a therapist or someone trying to change the world with porn. What I am trying to make is something that connects with you on a certain level.
What's going to happen to old-school, two-dimensional porn?
The conventional method of viewing pornography is not going to go away. I'll pull up my phone and load it up [for a conventional experience], but if I want to actually feel like someone is talking to me, like I'm having an experience versus consuming, then I'm going to go for something with its own sense of realism.
This interview has been edited for clarity and brevity.