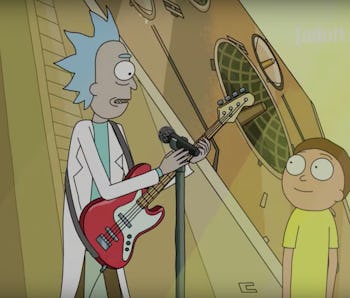 Entertainment
Rickroll and Morty: Season 3's Opening Scene Seems Familiar
Season 3 of Rick and Morty had been delayed over conflicts between its creators, but on Monday, Adult Swim Australia gave fans something to tide them over, sort of.
The clip is only 46 seconds long, but you'll immediately recognize it.
Co-creator Dan Harmon said in January he and Justin Roiland were feeling the pressure from fans for not releasing the long-awaited third season. "If Justin were here he'd agree," Harmon said. "He and I would go, 'Yeah, we fucked up,' and it's hard to put your finger on how we fucked up. Rick and Morty keeps taking longer and longer to write, and I don't know why."
Teases Adult Swim with the video:
Rejoin all your favorite characters for new adventures. Old faces return for hilarious cameos. Laugh, cry, emote through your sixth sensory organ!
Downvote excessively.
"Damn. Even Adult Swim is shitposting now," commented a Reddit user about the video.
One of the internet's longest-living memes, this is, of course, known as the Rickroll. Dating back to May 2007 and popularized every April Fool's day, the meme archivists at Know Your Meme describe the Rickroll like so:
Rickrolling is a bait-and-switch practice that involves providing a web link supposedly relevant to the topic at hand, but actually re-directs the viewer to Rick Astley's 1987 hit single "Never Gonna Give You Up."
Which is what is happening here! There's no word on when Rick and Morty Season 3 begins, though.
Update: Adult Swim has released the full Rick and Morty Season 3 teaser.