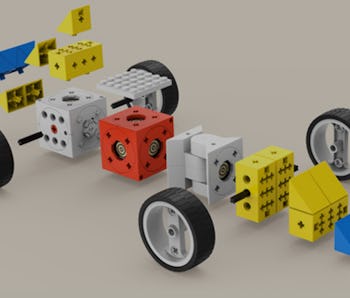 Innovation
Toy Robots Colonize Kids' Rooms While Adults Worry About Automation
Tinkerbots
The future of automated industries may be playing out in a New York toy fair. As adults worry about whether people will need a basic income to supplement lost earnings from robots taking over jobs, kids are putting together new machines and learning how to make them do their bidding. A new generation will grow up knowing how to make robots their masters.
The 114th North American International Toy Fair, a convention running from February 18th through to the 21st at New York City's Javits Center, is a center point for new trends in toy technology. This year, 24 exhibitors mention robots in their description. It might sound like child's play, but the products on display show that manufacturers are considering how the robo-revolution will change the demands of future industries.
It's no secret that an economy shifting towards automation will require different sets of skills. The Obama administration produced a report in December looking at robot automation. The report concluded that the best way forward was to invest in artificial intelligence, rethinking the social safety net and, yes, educating Americans so they can take on the jobs needed in the future.
At the Toy Fair, several products are teaching kids how to build their own robots using simplified parts. One example of this is Tinkerbots, which uses simple rearrangeable building blocks, paired with a smartphone app, to create imaginative new designs:
Another product is Tami, a block building system created by Robotron. The blocks are interesting in that they come in both non-robotic and robotic forms. Kids can make simple designs using the basic Tami blocks, before moving onto simple and advanced Robotami kits, some of which use touch and infrared sensors to teach the basics of hardware creation and software programming.
Other toys focus more on the software side than on hardware. WowWee is the creator of Coji, a robot that teaches kids how to code using a smartphone app. The bot responds to input via the app, and it's up to kids to work out how various emojis will string together to create commands. Similarly, Wonder Workshop are the makers of the Dash and Dot pair of robots, which interact with smartphone games that teach basic programming logic in an easy-to-understand interface.
The automation of kids' toys can't come soon enough. Tesla CEO Elon Musk claims that automation is going to transform the workforce, and a universal basic income will be necessary within 20 years of the first autonomous car hitting the road, which could be as soon as this year. Familiarizing kids with the shifting robot landscape will be crucial to helping the next generation understand this new world of technology.