Elon Musk Jokes That SpaceX Rocket Launches Are Just CGI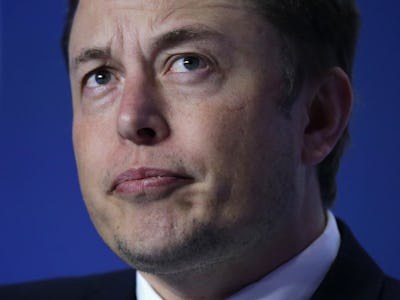 Getty Images / Alex Wong
In what's either a major scandal the likes of which space exploration has never seen or, much more likely, a pretty solid joke, Elon Musk has tweeted a bombshell revelation that all SpaceX launches are actually just CGI renderings.
The SpaceX CEO was on Twitter late at night, as he is wont to do, when he tweeted an announcement that SpaceX would be launching and landing a rocket over the weekend. He noted that the daytime launch is going to be the first time that a SpaceX rocket has taken off from the hallowed Apollo launch pad.
Upon reading that the launch was going to take place during the day, Twitter user @sc00bs asked if there was "any reason that most of the landings appear to have been at night so far?"
"It's much easier to do the CGI that way," Musk responded, in what we presume was a bit of his typical dry humor.
Now, assuming that Musk is kidding about all SpaceX launches being nothing but computer-generated trickery (and yes, of course he's kidding), you can watch the launch on Saturday, February 18. A Falcon 9 rocket will take a Dragon spacecraft to the International Space Station. It's a resupply mission, and among other things, the Dragon spacecraft is going to bring some adorable, soon-to-be freaked out mice into space for bone and muscle loss studies. Watch the webcast here.