Elon Musk: Tesla Will Pay All Repair Fees for Hero Model S Driver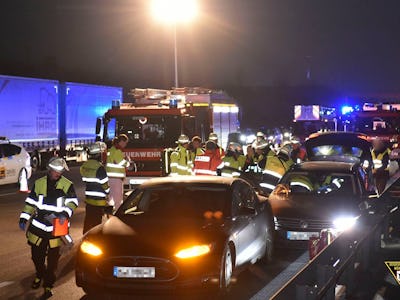 Feuerwehr München/Facebook
The man who used his Tesla to physically save another driver's life doesn't have to worry about repair fees, because Elon Musk totally has his back. On Wednesday, the Tesla CEO commended a German driver who saved another traveler's life by sacrificing the clean lines of his Model S in order to stop a runaway vehicle on the highway, telling him that Tesla would pick up the bill for his repairs.
A 41-year-old Tesla Model S driver near Munich, Germany, noticed that a Volkswagen Passat was behaving strangely earlier this week, slamming repeatedly into the road's guardrails. The Tesla driver then noticed the man in the driver's seat was unconscious, so he drove in front of the Passat, applied the brakes to make contact, and gradually brought the car to a halt. It's believed the Passat driver may have suffered a stroke, and the local fire department was quickly on the scene to assist.
On Wednesday, Musk personally congratulated the man's efforts with the promise of a speedy repair free of charge:
It's not the first time Musk has reached out to the Tesla community. Through his Twitter account, the billionaire entrepreneur regularly responds to queries and issues, for better or for worse.
When a fan reached out last month to ask when Tesla was bringing full self-driving capabilities to its Hardware 2-equipped vehicles, Musk replied that in six months time, self-driving features would noticeably depart from Autopilot features. It's unclear how autonomous those cars will be, but Musk likes to drop little hints for enquiring fans when they reach out.
On the other hand, Musk has also been known to dismiss customers that give him a hard time. Last year, venture capitalist Stewart Alsop found his Tesla Model X order canceled after getting into a public dispute with Musk over the car's launch event. Alsop claimed the event was a mess, starting two hours behind schedule. "Must be a slow news day if denying service to a super rude customer gets this much attention," Musk told followers.