Watch Silver Intimidate Billy in a New 'Black Sails' Clip
Long John Silver and Billy Bones meet again at last on 'Black Sails.'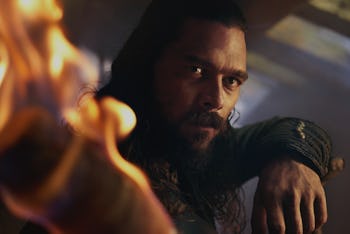 Starz
The last time Luke Arnold's John Silver and Tom Hopper's Billy Bones were together on Black Sails, they were partners working to advance the interests of the crew and navigate Flint's stormy moods. But in the fourth episode of Season 4, when they finally meet again after a prolonged separation, both men have changed dramatically.
During their time apart, Silver forged a close friendship with Flint. In the third episode of Season 4, Flint even saved his life. Billy, in contrast, recently tried to murder Flint during a dispute of how to handle the liberation of the slaves at the Underhill plantation. Billy — who looked and acted so clean-cut that Abigail Ashe once wondered why on earth he was a pirate — has grown comfortable with killing anyone disloyal to piracy.
For his part, Silver has also grown more lethal. He's more comfortable than Billy ever guessed with the identity of the legendary Long John Silver, and he's got Teach's former right-hand man, Israel Hands, in his pocket. That's not even mentioning the close bond he's forged with Madi, the princess of the Maroons.
When the two men meet again in Season 4, it's safe to say things might be unpredictable. In an exclusive clip from Season 4, Episode 4, watch their interaction below:
Black Sails Season 4 is currently airing on Starz. If you missed our post-mortem with the creators about the big death in the third episode, catch it here.