Philip Pullman is Writing Three New 'His Dark Materials' Books
The first entry in 'The Book of Dust' trilogy is due out in October.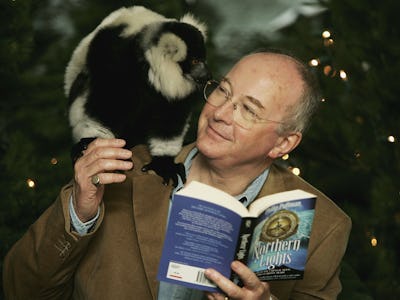 Getty Images / MJ Kim
Philip Pullman, the author behind the beloved His Dark Materials trilogy, announced on Tuesday night that he's writing three new books in the series, much to the delight of Pullman's legion of fans.
The first book, due out this fall, will be a prequel to the original trilogy, which comprised of The Golden Compass, The Subtle Knife, and The Amber Spyglass. The trilogy's main character, Lyra Belacqua, will only be an infant in this first new installment, which takes place a decade before the book that started it all. The next two books will occur a decade after The Amber Spyglass and will continue Lyra's story now that she's more grown up.
"The [new] story begins before His Dark Materials and continues after it," he said, as NPR reports. "You don't have to read it before you read [the original trilogy] … this is another story that comes after it, so it's not a sequel, and it's not a prequel. It's an equal."
The new trilogy is called The Book of Dust, and Pullman says the series will focus on the fictional mysterious elementary particle from his earlier works.
"That's what I really wanted to explore in this new work," Pullman explained. "More about the nature of Dust, and consciousness, and what it means to be a human being."
This isn't the first time that Pullman has revisited the world (or worlds, as it were) that he created for His Dark Materials. Pullman already wrote two novellas and an audiobook, though The Book of Dust promises to be the most substantial addition to the series so far, enough that Pullman says the new story merits an entire trilogy.
The first entry in The Book of Dust trilogy is set for an October 19 release date.