Hugh Jackman Tweets a 'Logan' IMAX Poster Right Out of the 1970s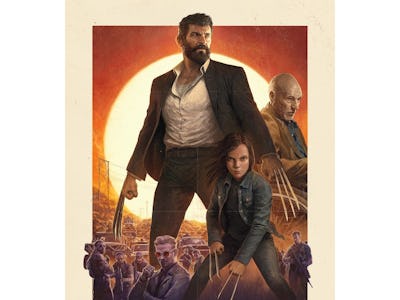 Twitter/20th Century Fox
Wolverine's near-future is looking a lot like the past.
Hugh Jackman took to Twitter Tuesday to share a 1970s-styled Logan poster. Jackman, who's portrayed Wolverine for the past 17 years — and will portray him for the last time in Logan — offered a one-word caption with the image: "IMAX." This falls into step with the rest of the Logan promotional campaign thus far, which has involved posting various, seemingly random and sad black-and-white images of the Logan crew sans context.
The IMAX poster is of a different caliber, though, due to it actually being in color and featuring the majority of the Logan cast. The image puts Logan, Laura (Dafne Keen), and Charles Xavier (Patrick Stewart) at the forefront, surrounded on all sides by Pierce and his gang of goons. Laura and Logan strike aggressive poses, claws at the ready.
Despite Logan's formidable size and central placement on the poster, it's hard to ignore Laura's cold, focused gaze.
Professor X, wheelchair-bound and looking worse for wear, stares off into the distance, seemingly in pain and lost in his thoughts. He's the closest of the main trio to the enormous setting sun in the background, most likely representing his presumed death at the end of the film.
Pierce (Boyd Holbrook) stands just behind Laura, perhaps indicating his ruthless mission to take her back into custody, wearing his already signature rose-colored glasses and looking generally menacing.
The most notable absence from the group is that of Caliban (Stephen Merchant), the albino mutant involved with the outcasted Morlocks. He's nowhere to be found in the poster. Recent Logan TV spots gave a slightly more revealing look at Caliban, and there are indications that his role in Logan will be larger than expected. So what's the point in leaving him off the poster? Perhaps Pierce's goons took up too much space, as goons do.
This style of poster — a 1970s-era throwback — has been popular amongst fan recreations of posters in recent years. Seeing a real promotional campaign latch onto the style is, maybe, an indication of powerhouses such as 20th Century Fox finally catching onto the trend.
Logan will premiere in theaters (and IMAX) March 3.