Villain-Stuffed 'Lego Batman' Almost Had Even More Baddies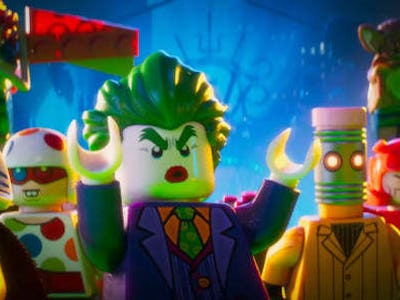 Warner Bros. Pictures, Warner Animation Group
In its surprising final act, The Lego Batman sees the Joker (Zach Galifianakis) summon an army of villains from multiple film franchises, like Harry Potter and Jurassic Park. The villains invade Gotham City, working together as Gremlins and the Dark Lord Sauron try to take Batman's home turf. Director Chris McKay did everything in his power to include even more villains in his film's climax, but he worried that an audience of children wouldn't recognize the bad guys from Misery, Kill Bill, and Gangs of New York.
After the first Lego Movie proved to be a whip-smart deconstruction of product placement licensing in Hollywood films, McKay knew that his animated film would have to pull off something just as big for Lego Batman. His solution was to have the Joker summon villains from the Phantom Zone that hailed from across cinema's greatest films.
In an interview with Entertainment Weekly, McKay explains that he "would have had Kathy Bates from Misery, and [Sherlock Holmes's nemesis] Moriarty." He also said, "At one point I pitched Daniel Day-Lewis's character from Gangs of New York and David Carradine from Kill Bill. At a certain point, though, you have to weigh what characters the kids going to get… Also, at one point, we did put HAL from [2001: A Space Odyssey] into the movie, but it was a tough read. Maybe in future movies, we'll try to bring more characters in."
It helped that Warner Bros. produced many of the films from which McKay borrowed his interloping characters. That doesn't mean getting all those characters in Lego Batman wasn't a licensing and legal nightmare, however, as McKay reveals how the studio had to go through Harry Potter author J.K. Rowling in order to get Voldemort to play such a big part in the film.
"Yeah. We used Dumbledore in The Lego Movie as a quick one-off joke, but Voldemort obviously plays a bigger role in this movie, and J.K. Rowling obviously cares very deeply about these characters, so we absolutely had to run stuff by her," McKay explained, though he's quick to mention that Rowling had a very good attitude towards Voldemort's appearance, noting only character details like what kind of dialogue or spells Voldemort would use.
Over the course of two films, both The Lego Batman Movie and The Lego Movie have proven to be exercises in postmodernism, providing sophisticated takes on creative culture and consumer marketing under the guise of a toy movie franchise. Both Chris McKay and Lego Movie directors Phil Lord and Chris Miller have undercut the potential cynicism of their films with genuine heart, fun, and a little wink to adult viewers.
McKay even reveals that this almost sci-fi concept of their Lego Film Universe will become a hallmark in upcoming Lego features like Ninjago and Lego Movie 2.
Lego Batman is currently out in theaters.