Elon Musk Says the Real Reason for His Tunnel Plan "Is a Secret"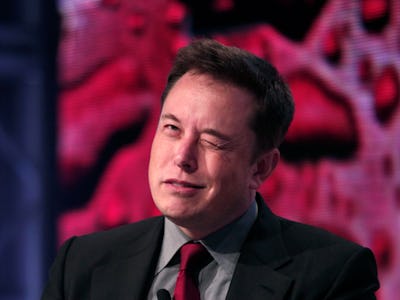 Getty Images / Bill Pugliano
Elon Musk has talked about reducing city congestion for years, but the real purpose for his tunnel digging project is a secret, he said Monday.
He was maybe joking, but it's possible that Musk has bigger plans for his networked tunnel idea — and putting the hyperloop underground is one theory. It's no a secret that Musk despises the traffic in Los Angeles, and after a series of ~ boring ~ tweets that seemed like a joke, he has started digging a giant hole near SpaceX's headquarters. In a conversation at the World Government Summit happening this week in Dubai, Musk jumped across a variety of futuristic ideas — like using neural lace to withstand the singularity, how there could already be aliens among us, and having autonomous cars within ten years. Musk's interviewer took a second to ask Elon why in the world he's digging a tunnel.
"Why? It's a secret as to why," Musk coyly.
And Musk seems to be aware the tunnel idea seems so odd that he has to qualify why he's looking into it. He said, "It seems so trivial, or silly, but I've been saying this for many years now, but I think the solution for overcrowding is a network of tunnels under cities." And he's truly talking about a network of 30 layers of tunnels under the city, not just a few little tunnels. "You can always go farther down than you can go up," he said.
"The challenge is: How do you build tunnels quickly, at low-cost, with high safety? So if tunneling technology could be improved so you could build tunnels fast, cheap, and safe, then that could completely get rid of any traffic situations in cities," Musk said.
Watch the whole conversation below. It begins at minute 27.