New 'Pacific Rim' Jaegers Are a 'Voltron' and 'Evangelion' Mashup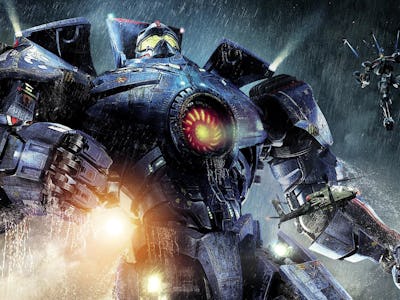 Legendary
We recently got our first look at one of the human characters who will fight kaiju in Pacific Rim: Uprising when John Boyega dropped the first photo of Jake Pentecist on social media. But now we have the first image of the gigantic mech robots called Jaegers that will make all the monster carnage possible. And it looks like the beefy bots have gone on a diet
The first look at the three sleeker Pacific Rim: Uprising Jaegers comes from toy photos found in a consumer product marketing magazine called License! Global, which popped up on the internet via a Pacific Rim fansite. It's difficult to make one-to-one comparisons to the Jaegers in the first movie since those were all made mincemeat by some seriously angry kaiju. It seems the rebuilt jaegers were rebuilt to be quicker this time around.
The middle jaeger could be the rebuilt version of Gipsy Danger, the primary mech robot piloted by the original film's heroes Mako and Raleigh. The red Jaeger on the left might be the new Crimson Typhoon, while the stout one on the right makes for a great Cherno Alpha update.
Check them out below:
Mostly these new Jaegers bear a striking resemblance to obots from other popular sci-fi franchises, most notably Voltron and Robotech.
But we can't help but notice that the less bulky Jaegers are a spitting image of the Evas from the massively popular Japanese anime series Neon Genesis Evangelion. While doing the press rounds for the first Pacific Rim, director Guillermo del Toro was quick to point out that Evangelion was, weirdly enough, not an influence. "I haven't seen Evangelion," del Toro said in an interview. There is anime influence [in Pacific Rim], but not from that anime in particular."
The Evangelion robots look like this:
Now that del Toro is out the the director's seat for Uprising in favor of filmmaker Steven S. DeKnight, perhaps the Eva comparisons became a bit more pronounced.
Pacific Rim: Uprising is set to hit theaters on February 23, 2018.