A Side-Effect of London's Bakerloo Tube Extension? Easier Breathing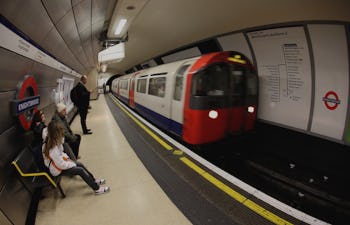 Getty Images / Oli Scarff
Londoners are getting an extension to their famous tube network that aims to reduce air pollution because more people will take the underground train and less will put their cars on the road.
The city's transportation agency, Transport for London, unveiled on Thursday the map of a new Bakerloo line extension that goes through the southern part of the capital and will be fully operational by 2029.
The hope is that the extension will get cars off the road, reducing congestion and cutting carbon emissions. Last month, London's mayor was forced to issue a "black alert" as the city faced its worst air pollution crisis yet. The city needs to act: by the time the extension opens, the population will have increased from 8.7 million to 10 million.
What's more, some eight million people in the UK — good for more than 1 in 10 — have asthma. The London Borough of Lewisham, where the new extension ends, has the highest asthma rates in the capital, at 5.47 percent.
The plan provides important lessons for cities around the world, as global CO2 levels reach astonishing heights, surpassing 400 parts per million. While electric cars and alternative fuels may help reduce carbon, even Elon Musk agrees the world needs to dig more tunnels.
The map below shows the planned extension route:
The huge impact it will have makes more sense in the wider context. The area of London south of the River Thames accounts for around 40 percent of the city's total area, but it has far fewer tube stations: there are 289 stations on the network, but only 29 of them are in the south. This map of inner London shows that, for many south Londoners, the best way to get around is by car:
The area around the extension highly polluted. This is a map from 2013 produced by King's College London, measuring NO2 levels in the atmosphere. This is a cropped version that shows the area around the proposed extension. At the left edge of the map is the Imperial War Museum, where the current Bakerloo line ends. The X-looking shape towards the bottom right is where the new line would end:
Where does that pollution come from? The traffic on this map, covering Monday at 9 a.m., shows that some of the most congested roads in London (darkest red) cut right through the path the new line would serve, from the war museum to Lewisham station:
With the rising pollution in cities around the world, town planners will need to look at solutions like these to relieve congestion in their city's busiest areas.