Why Aren't the Sci-Tech Awards Presented at the Oscars?
The Academy Awards should seriously consider recognizing the men and women who changed cinema on a technical level.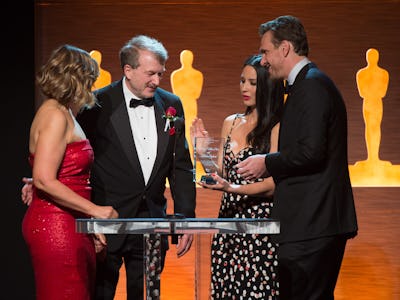 Oscars.org
When Hollywood's biggest stars gather for cinema's most important night every year for the Oscar telecast, they probably aren't aware that most of them missed the real party two weeks earlier. That is, at least until some young actor brings the televised ceremony to a screeching halt to honor the Academy's Scientific and Technical Awards. These awards honor the men, women, and companies whose cinematic innovations have made an impact on the medium. Yet they're often an afterthought, relegated to a 30-second clip montage of footage mostly because they honor contributions too complicated to explain in a soundbite. But without these award winners, movies that win Oscars wouldn't even be possible. Sci-Tech Oscars aren't presented at the actual ceremony, but they should be.
The primary reason they're not included is time … also money. The most recent Oscars clocked in at three hours and 43 minutes. And if you thought that was long, the 2002 Oscars stretched on for four hours and 20 minutes. It's unruly, and the ad-based television gods can only fit so much into prime time without cutting in on the late night local news telecasts. And it makes for better viewing to have Emma Stone talk about her Best Actress win for La La Land than having nerds highlight the Henson Performance Control System animatronic puppetry technology developed by the Jim Henson Company.
But is that any way to treat part of the Academy Awards that have been around for 86 years? The Sci-Tech Oscars have been around since 1931, honoring some of the most important innovations in film.
Although those awards lack the immediate star power of the Oscar ceremony, the honorees are more deserving of the esteem because of their crucial role in modern-day filmmaking. It's hard to remember acting winners even a year after they've taken home a trophy. The nonlinear Avid editing system, which won a Sci-Tech award in 1999, is still used for basically every major Hollywood film, making its impact far more lasting.
It's not like every single Oscar award shown on the telecast needs to be there either. Is the average viewer tuning in to see what movie wins Best Sound Mixing or Best Animated Short? Are those single-film categories any more significant in general than the influence of Sci-Tech nominees that have shaped the industry as a whole? If the Oscars include them, they could even teach viewers a thing or two about the art form they're fawning over.
The least the Academy Award ceremony could do is bump certain awards out of the telecast for specific significant Sci-Tech awards. Here are some of this year's award recipients that seriously deserve some face time:
Thomson Grass Valley: This company developed the Viper FilmStream digital camera system. Like the Avid, digital cameras are now an essential and controversial part of not only Hollywood filmmaking, but feature filmmaking in general.
Kiran Bhat, Michael Koperwas, Brian Cantwell, and Paige Warner: Did you like Maz Kanata and all of the other ridiculously awesome CG characters in Star Wars? You have this ILM-based group's facial performance capture-solving system to thank.
Brian Whited: Were you one of the many people who enjoyed Zootopia or any number of Disney Animation Studios films in the recent past? Then you Whited a debt of gratitude, as he developed the Meander drawing system that allowed the artists tasked with animating those features to do just that.
The reality is, there's probably no way the Sci-Tech Oscars will air during the telecast. But the importance of the honorees far outweighs any sort of prime time television exposure. But that low-key distinction relates to the same ways those people behind the scenes strive everyday to change the medium. What's more Oscar-worthy than that?