California Republicans Want Trump to Block Bullet Train Funding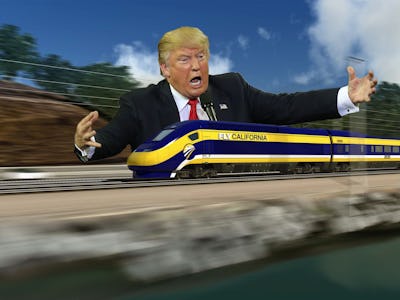 Getty Images/Wikimedia Commons
President Donald Trump made a big deal during the campaign about wanting to turn America's "crumbling infrastructure into a golden opportunity for accelerated economic growth." So, now Trump's in a little bit of a political pickle, since California Republicans want his administration to block funding to the biggest infrastructure project in the country.
As the Los Angeles Times reports, the 14 Republican members of the state's House sent a letter to Trump's new Transportation Secretary Elaine Chao asking the department to halt a federal grant for the state's high-speed rail project. The group is requesting that the government shuts down funding until there's been an audit of the project in the wake of massive cost increases and decreases to the train's scope.
Originally, there was talk of a high-speed rail line that would stretch from San Diego to Sacramento and cost $33 billion. Now, though, the plan is just for the tracks to connect L.A. and San Francisco by 2029 at a much higher cost — $64 billion. (San Diego and Sacramento might still join the bullet train club at some point, but "Phase 2" doesn't have any hard dates yet.)
The Republicans' letter to Chao is specifically looking to block a $650 million grant from the DoT for an electrical system on the Bay Area's Caltrain rail service — an integral part of a $2 billion electrification effort that will help further the larger high-speed rail plans along.
An audit of the kind that California House Republicans are asking for could take months.
Neither Trump nor Chao have said much about their views on the California High-Speed Rail, so it remains to be seen if they'll want to place a major barrier in the train's path. Trump has, however, indicated support for a Houston-Dallas bullet train in Texas.