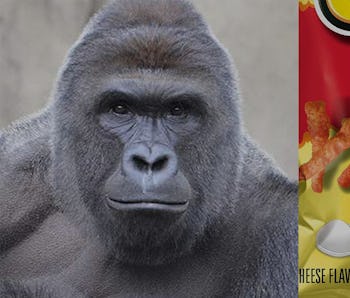 Culture
People Are Bidding $100,000 for a Cheeto Shaped Like Harambe
Harambe, the noble ape that was slain in a hail of gunfire at the Cincinnati Zoo almost a year ago, has been reborn … as a Flamin' Hot Cheeto. That's right, the gorilla whose death launched a thousand memes has been immortalized via a spicy cheese snack that supposedly looks just like the late primate — and that Cheeto can be yours for, oh, $100,000.
That's right, for the person who discovered this fabled Cheeto is selling it on eBay. The starting price was only $11.99 (a bargain, if you ask me), but the price has risen a lot since then. So far, 37 people have placed a combined total of 119 bets and driven the price up to $99,999. If you want to make the Harambe Cheeto yours, either to keep forever or eat is as a snack, you'll have to pay six figures. Seems like a lot, but then again — how much is the life of a gorilla worth?
"I opened up a bag of Flamin Hot Cheetos and as soon as I looked inside I came across this unique Cheetos that looks like Harambe the gorilla," the seller, eBay user valuestampsinc, explained in the item description. "This item up for bid is only for this unique Cheetos, bag not included," the user clarified, adding that the Cheeto would make "a great collectible for anyone who appreciates rare items!"
Sounds great, right? But here's the thing: The Cheeto is a fucking scam.
While the Flamin' Hot Cheeto is unquestionably gorilla-shaped, it is not shaped like Harambe, the ape whose death inspired the internet. A little bit of digging reveals that the photo on the left (which eBay user valuestampsinc claims is Harambe) isn't Harambe. The original picture was taken by photographer Andy Rouse and hosted on Naturepl.com. According to the image caption, Rouse took the picture of the gorilla in the Virunga mountains of Rwanda.
Harambe, if you remember, lived in Cincinnati, Ohio which is definitely not Rwanda.
Essentially, the Cheeto is a scam, a waste of money, and, above all, an insult to Harambe's memory.