Here's How Intel Drones Nearly Stole the Show From Lady Gaga
It's the future of entertainment.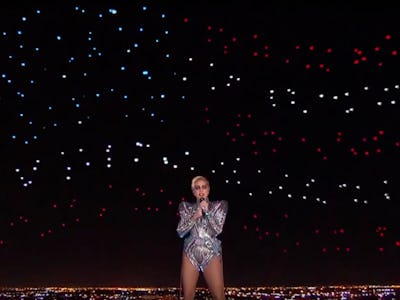 Getty Images / Al Bello
A swarm of Intel "shooting star" drones wowed millions Sunday night: The synchronized formation of 300 quadcopters flew perfectly in-sync on the biggest stage yet for the new technology, and its execution — a perfect American flag — made for an appropriately patriotic backdrop for Lady Gaga's Super Bowl performance. The drones were terrific, they were scene-stealers.
Intel's shooting star drones had been building to this moment. Previous performances included stops at the Sydney Opera House, Disney World, and a world record attempt in Germany. But all that paled in comparison to the Super Bowl:
While Gaga's set was ~ amazing ~, the drone technology was truly innovative.
Here's how Intel kept Gaga's Super Bowl drones in line: The drones use what Intel calls RealSense technology, which is a system of sensors and 3D cameras that allow the drone to see like a human eye, by projecting infrared light to sense objects in its path, recognize faces, and record the depth of an area. The drones are then coordinated to "learn" their surroundings by combining GPS location services and depth measurements to adapt to an area. They are also able to avoid unforeseen objects by remembering their location. The swarm of drones were programmed on one computer by one "pilot." A show like Gaga's can take just a few days to choreograph.
"We will be able to demonstrate that drone light shows can redefine entertainment and create amazing new experiences in the night sky," said Anil Nanduri, vice president of Intel's New Technology Group, in a news release about the show.
The drones used during the half-time show are each a foot long and weigh about 280 grams (less than a volleyball). They are encased in a plastic and foam cage to protect the propellers against unwarranted interference, so they can put on their spectacular LED light show display. Each drone can create up to 4 billion color combinations.
And on the Super Bowl stage, the drones seemed to be a hit:
This display may not have won any world records — it's currently 500 drones — but it was the first time the technology has been used during a Super Bowl, or any live television broadcast for that matter.
If Intel has anything to say about it, the drone tech will become a Super Bowl staple:
"The potential for these light show drones is endless and we hope this experience inspires other creatives, artists, and innovators to really think about how they can incorporate drone technology in new ways that have yet to even be thought of," says Intel's Josh Walden, a senior vice president with the company.