The 8 Best Apps for Directions that Aren't Google Maps
Get around your city in style.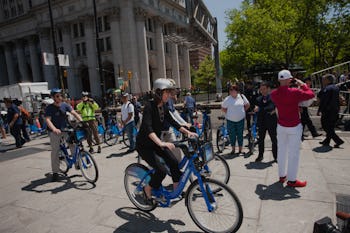 Flickr / NYCDOT
Smartphone GPS has been a blessing, but it can get a little dull — if you're tired of trudging around the city following Google Maps, there are other option. It turns out, with all the advancements of modern technology, these eight developers figured out a way to make navigating around your city a little more fun.
If you've ever wanted to get to your favorite places using compass directions, or hit the maximum amount of parks on a journey, there's a world of navigation apps out there to help.
The all-in-one travel commuter app, Citymapper remains the champion for modern city life. Tap in your entry and exit destination, and immediately see every possible method of transportation, alongside how long it will take and how much it will cost. It sounds simple, but the app's consistent updates and support for new technologies like iMessage location sharing keeps it top of the pile.
New York City's bike rental system is a great way of navigating the city, but sometimes it can be hard to plan the best route around. The Citi Bike app shows how many bikes are stationed where, how to get around, tracks how long you've been on the bike for, and even allows you to order bike access directly from your phone. Get on your bike!
Find My Way Back Now (iOS)
This app does exactly as it claims. Need to find your way back somewhere? Drop a marker, then later call up a simple compass and distance from your pin. Find your way back to your car, or that store you just passed, or your home. It's charmingly fun in its simplicity, the virtual equivalent of a friend pointing in the general direction of your car. What more could you want?
Ride the NYC subway like a champion. Exit Strategy tells you exactly where you need to be to exit the subway station as quickly as possible. Shave minutes off of your journey by positioning yourself in the right part of the train to make a quick exit. It's all about having a good exit strategy!
This app's been around for a while, but it's still essential for upgrading the driving experience. Waze crowdsources traffic data to provide more accurate turn-by-turn voice navigation. The community can report alerts, like road accidents, that gets fed to other users to ensure they make it on time. Waze can even find the cheapest fuel on your route.
BlindSquare (iOS)
This app, designed specifically for the blind, combines your phone's compass and GPS with FourSquare data to explain what's going on around you. A special algorithm works out the most relevant information about the world around you and uses a speech synthesizer to provide an audio digest. If there's a popular café nearby, it'll tell you. If it's probably more important that you should know an intersection is coming up, it'll tell you about that instead. When you've found an interesting place, BlindSquare can start turn-by-turn directions. The app can even detect if you're moving by car, bus or train and adapt accordingly.
Speed Cameras & Traffic (iOS, Android)
Worried about getting fined by the fuzz? This speed camera companion will let you know if you're heading for danger. The app covers over 60,000 speed checks and cameras and gives real-time alerts of traps near your location. It's even able to alert you when you're exceeding the speed limit.
Footpath (iOS)
Try skipping the daily commute and walk to work! Footpath is the ideal way to map walking routes that factor in elevation alongside point-to-point distance. Use your finger to draw an approximate route, and Footpath will try to develop a more precise path. Zoom in for precision modification (say, to avoid hills) and press down on two points to get an immediate distance readout. Share your best routes on social media, export routes via email, and tell your friends about how you killed it on that trek around Central Park last week.