Cam Girls Are Beating a Path Toward Virtual Reality
Swiss-based company Terpon wants to catalyze the market with people's lust.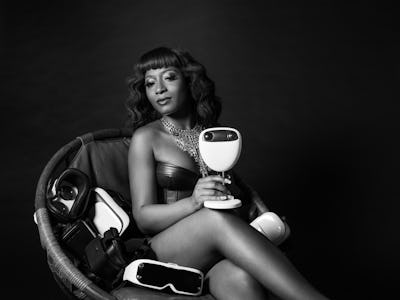 Terpon
The porn industry has always been on the forefront of technological progress. Modern society can thank pornography for helping make VCRs a household item and creating a demand for faster internet connections so people could stream naughty videos. Now, it's on to the next frontier: virtual reality.
Revenue for the VR and augmented reality market is projected to grow from $5.2 billion in 2016 to more than $162 billion in 2020 — and cam girls, who perform live for viewers at home, are helping drive that technological revolution forward.
In the wake of a recent seven-figure investment, Switzerland-based virtual reality camera company Terpon will give one thousand of its Hermes and Artemis 3D-VR webcams to members of the camming community this month. Already, there are porn studios creating virtual reality videos, and by getting cam models to broadcast in virtual reality, Terpon hopes to catalyze the emergence of VR in the mainstream marketplace.
"With VR quickly becoming the latest trend, and sex toys becoming more virtual, it's a logical step forward," a cam model who goes by the name housewifeswag told Inverse. "I feel like it will create an additional element, but I don't think it will change much. At least not until much later when VR is readily available to everyone at an affordable price."
About half of the giveaway devices are for top independent cam models at websites that have already partnered with the company. Another portion of the 1,000 will be reserved for a number of cam studios that have expressed interest in creating more virtual reality content. The remaining cameras will go to performers with credible profile and growing followings that reach out with interest to Terpon.
This promotion is also intended to publicize Terpon's rental program. The company lends its 3D-VR cameras for about $30 a month. That helps prevent consumers from splurging on buying one of these cameras, only for an updated model to come out a few months later, a cruel side effect of virtual reality technology's rapid advancement.
Terpon's Hermes camera provides a 3K (1500x1500 resolution per eye) video stream, broadcasting images at 30 FPS, a rate that's faster than most movies, leading to more realistic images. The Artemis is even more high-end, featuring 4K resolution and requiring a 20 mbps internet connection.
"We want our customers to have the most up-to-date technology at their disposal, so their fans can experience them in the highest quality," says Terpon CEO and Founder Jean-Claude Artonne. "Reasonably, I can tell you that each performer will be able to change his/her cameras every four to six months during the first year and nine to 12 months thereafter. Considering how often people buy their own cameras, typically one every couple of years, our [rental] offer is the most logical and best-priced."
The hope is that as these cammers begin offering VR shows and videos, viewers will be more inclined to get VR headsets, which of course, Terpon offers as well. Cam performers will be eligible to receive a sales commission via the shop's affiliate program if their customers also end up purchasing or renting a headset.
For live-streaming, Terpon's cameras will only work with cam sites and platforms that have integrated its technology. Artonne projects that almost all top cam sites will be compatible within the next three months. Until then, users will still be able to record their own content and make it available to their followers and customers; the camera can also be used to create videos that work on more mainstream platforms that already support hosting VR content, like YouTube.
"It's especially important for us to build solid relationships with these studios as they begin their transition to virtual reality, so they continue to rely on us to provide them with our state of the art technology," says Artonne.
The adult entertainment industry has long embraced new technologies and experimenting with fresh ways to get people off. CamSoda has tried things like turning cam girls into holograms and offering virtual blowjobs through haptic technology. And a growing trend with cammers is using digitally controlled vibrators that respond to monetary tips while streaming. That way, those who tip can feel like they have some sort of bodily connection with the model instead of just watching.
"I don't use vibes [vibrators] that respond to tips and I think more than half the girls that do fake it," says cammer Stormy. "But VR would definitely make more money for girls that could play into it."
Virtual reality could help cam performers capitalize on clients' want for more immersive experiences. As the VR market booms, it could be the technology that ties together all these new burgeoning efforts to provide people with sexual experiences they want.
"Today, everything is about synchronizing what you can see and what you can feel," says Antonne. "Ultimately, the consumer wants seamless interconnectedness between all their devices, ensuring they are provided the most realistic experience possible."