Airbnb Says the Future of Hospitality Is the Past of Hospitality
Hospitality will become more about friends than service.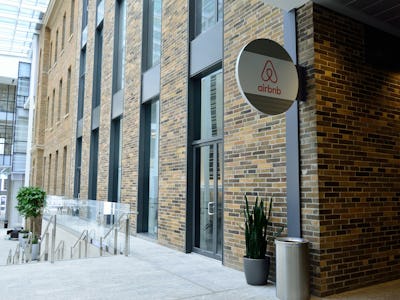 Flickr / Open Grid Scheduler / Grid Engine
Airbnb offers its users a roof over their heads when they're away from home. That, when it comes down to it, is what the Silicon Valley giant does. However, the man in charge of Airbnb's hospitality says there's something even more fundamental at the core of what Airbnb does that makes it so successful. Chip Conley, a hotelier with 30 years of experience under his belt, sees Airbnb as a boutique, personalized hotel taken to the next level. Airbnb is just the newest, most refined version of an old idea — one that's come into vogue now that the experience of staying somewhere is as important as where someone stays.
Conley, who came over to Airbnb in 2013 as its Head of Global Hospitality and Strategy, knows what he's talking about when it comes to personalized lodging. In 1987 he founded Joie de Vivre Hospitality, which would go on to become the world's second-largest boutique hotel chain. While speaking at San Francisco's Worlds Fair Nano, a recent futurist convention, he explained how Airbnb's greatest strength was actually a natural next step in the history of hotels and leisure travel.
"The more experienced you were as a traveler, the more you wanted to actually have a localized experience and something that felt unique," said Conley, explaining that this is what allowed Airbnb's most banal feature to become its strongest selling point. After all, there is nothing more personal than staying in someone else's home.
"Boutique hotels were evidence that people wanted a localized, personalized experience… Airbnb took the idea and took it 10 steps further," Conley said. "It helps travelers feel like a local."
"I think the future of hospitality is this: It's the past of hospitality," Conley said. "It's the idea of how do we help people feel we are doing something for them, rather than something to them."
That, of course, is a little self-aggrandizing on Airbnb's part, as was Conley's claim that home-sharing was "turning strangers into friends." This rosy, somewhat retro-futurist take also sidesteps Airbnb's massive economic implications in favor of highlighting the service's appeal. Based on how successful Airbnb is (the company's worth $30 billion), it's a pretty darn appealing service.
Conley does, however, admit that home-sharing had been around for thousands of years before the advent of Airbnb. It's just that society's ability to travel — and our preferences for lodging once we get where we're going — have changed, drastically. Airbnb just found a way to take that newfound desire for a personalized experience and make it a universal option.