The League Wants to Remove the Dating "Complications"
"All you should be doing is assessing compatibility."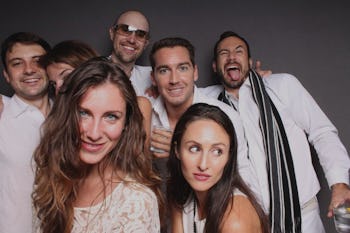 facebook.com/theleagueapp
Will the next generation of Tinder or Bumble finally remove the complications of dating and just let two people see if they're romantically compatible? That's the hope of Amanda Bradford.
Bradford founded the League, a sometimes-criticized (New York Times: "a dating app for would-be power couples") dating app that promises to find you somebody who "shares your education level and ambition." She took the stage at the recent Worlds Fair Nano in San Francisco, a futurist convention, to make her case for the League.
"When you come in, all you should be doing is assessing compatibility. You shouldn't be assessing qualifications; we want to do qualifications," she says. Explaining that the League caters to "intelligent and ambitious singles looking for those same qualities in a partner," Bradford uses a quasi-business term to describe dating in the League: It's a "joint-venture relationship." That is, partners are looking for an equal of some sort, whether in terms of education, career, or ambition. Your League score matters, as Bradford has made clear:
Frustrated with dating apps like Tinder, which failed to include her must-have qualifications (education, career, and location), Bradford set about creating her own online dating platform which would determine those necessary qualifications from the get-go. So she launched the League, presumably for potential partners who could find somebody in — and not out of (or worse, below) — their league.
The League promises to curate matches for its single users, giving them three to five matches a day based on the League's own algorithms. "We're actually one of the few dating apps that need a really good algorithm because we don't give you quantity, we give you quality," claims Bradford.
This doesn't necessarily make the League a better dating app than Tinder or Bumble, of course, but it does seem to solve a problem for a type of single person who wants to stay within their own socio-economic circle when looking for a partner, a concept that has its own drawbacks in the abstract but could also be viewed as a time-saving service. The League promises clinical efficiency.
"It's about getting to that first date sooner," Bradford says. "What can we do so that there are only six messages that you need to exchange? If it were up to me, people wouldn't be having two days worth of conversations before scheduling a date."
While this automated dating future sounds almost too good to be true, Bradford revealed in her talk just how scarily efficient dating apps have become at parsing the various factors to a first date since the first days of online dating. It's only a matter of time until Dating 2.0 and Dating 3.0 apps will eventually just make perfect matches on their own, but at what cost?
To quote The Simpsons, "The computer matches would be so perfect, it would eliminate the thrill of romantic conquest!"