Worlds Fair Nano: Can Group Meditation Cure Millennial Loneliness?
At the very least you might make new friends.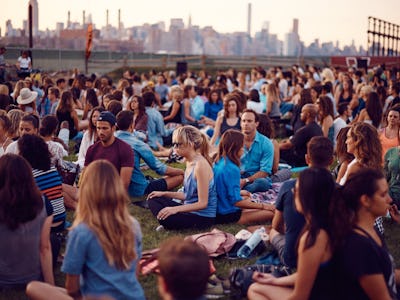 Felix Kunze
When I sat down for a talk on the future of human connection at the Worlds Fair Nano in San Francisco this past weekend, I didn't expect to participate in a group meditation with 700 people in a loud and bustling warehouse. However, The Big Quiet, a social meditation club, founder Jesse Israel is convinced that these group meditations can help cure the existential crisis of busy millennials: loneliness.
Jesse Israel is the founder of The Big Quiet, a social event series that hosts group meditations at a massive scale. The organization has hosted meditations in large spaces around New York City like the Lincoln Center or The Oculus. However, the Big Quiet also helps train other people organize their own local group meditations and safe space conversations. All for the purpose of building human connections through the building of micro societies based on entry points like meditation, but also othe group activities.
The best way to describe Jesse Israel is perhaps as a "social facilitator". A veteran of the music industry, Israel began his career by signing the drug pop band MGMT, but it was clear that his true passion was in organizing little social gatherings. His first was a local dining club for him and his friends called "Burger Boys", which opened chapters across the globe in other U.S. cities and countries like Sweden. His second social "experiment" were the "Cyclones", a massive bicycle group in New York City.
In both experiments, Israel explained that these get-togethers were more about finding human connections, especially while juggling a young, millennial professional lifestyle in a city like New York. Citing the anonymous living conditions of being a young working man in New York City, Israel cited the difficulties of forming meaningful connections growing up through his mid-20s.
"When we come together through a sharing experience, we create the permission for people to connect." Whether this permission comes from a cheeseburger, a bike ride, or "a massive protest on Washington D.C." Israel argues that through these collaborative efforts we become supported and heard, and a part of something larger.
"Science actually shows there are benefits to humans coming together in this world. Group cooperation triggers Oxytocin in the brain, which creates a feedback loop of feeling good, and group loyalty."
Ultimately it seems as though the meditations are just the access points to social interaction and human connection. The future then, that Israel is proposing, is that since urban society has outpaced the communal spirit of village living, it's up to people to organize their own spaces where they can foster a community, whether it's in the form of a small eating club for a group of friends, or a large meditation for hundreds of people.
Are group activities the magical cure for loneliness? As someone who joined in on the 700 people strong meditation session, I can say that it didn't necessarily foster in me a deep connection with the people around me. But as a person who shared in on the experience, I gained something in common with hundreds of other people. That's probably a good starting point, especially in a warehouse full of strangers.
You can sign up for The Big Quiet's newsletter to find local gatherings near you through their website.