'Resident Evil: The Final Chapter' Lags in American Theaters
The sixth installment came in lower than expected.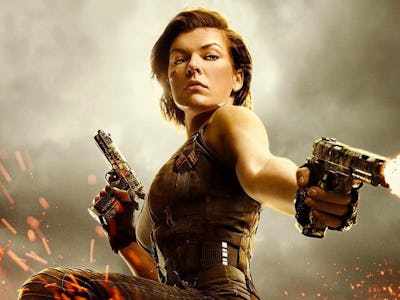 Sony/Screen Gems
Milla Jovovich returned to the big screen as Alice for the last time this weekend, but the new, eagerly anticipated Resident Evil film didn't perform as expected in North American box offices. Entertainment Weekly predicted that Resident Evil: The Final Chapter would come in second place, earning $15 million dollars its opening weekend, but it ended up in fourth place, only grossing $5 million on Friday, according to The Hollywood Reporter. The Final Chapter didn't fare much better with the critics, earning a 41% rating on Rotten Tomatoes. And while audiences didn't exactly flock to the theaters for the sixth and final installment in the saga, they seemed to enjoy it enough, yielding a 71% audience score.
Even though Jovovich didn't exactly bring home the bacon stateside, overseas numbers tell another story. THR reports that The Final Chapter grossed $35 million in Japan this weekend, and is projected to finish with an international total of $75 million.
Besides the numbers, though, some viewers were quite disappointed. YouTube geek Joe Vargas, known for AngryJoeShow tweeted his disgust earlier this week.
Despite incorrect projections around The Final Chapter, media outlets correctly predicted that Split would stay on top this weekend. In its second weekend, the thriller brought in about $25 million, according to THR. Plus, fans are simply swooning over James McAvoy's portrayal of a kidnapper with dissociative personality disorder.
Beyond McAvoy's chilling performance, Split unexpectedly opened up some doors in the Shyamalan universe, aka the Shyamalaniverse. We won't say more than that in case you haven't done yourself the favor of seeing it yet.