'Star Trek: Discovery' Is Filming, Still Getting New Writers
Looks like the story isn't done yet.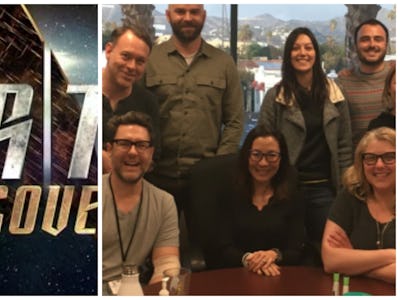 The voyages of the Starship Discovery are still being boldly written, and probably, re-written. Though Star Trek: Discovery is in production, the forthcoming highly anticipated CBS science fiction show is still adding new talent to its writers' room.
On January 20, veteran TV writer Edward Sullivan posted to his Facebook account to fully confirm that he was joining the writing staff of Star Trek: Discovery one week before the show reportedly started filming. The Twitter account for the Discovery writers' room also featured him in a photo on January 19 as series star Michelle Yeoh was visiting various writers for the show.
Edward "Ted" Sullivan's writing resume is impressive. He's written for Supergirl, Revenge, and produced several videos for the Democratic National Convention. He was also a producer on Supergirl and Pure Genius. But, will Trekkies interpret his late-game hiring to write for Discovery as a sign that the show is moving away from the Bryan Fuller scripts?
After leaving Discovery due to scheduling issues, former-showrunner Bryan Fuller has publicly said that he had themes and storylines "plotted" before his departure, and that the creative team on Discovery "has my number" if they needed to consult him. So, all of this doesn't necessarily mean Sullivan was hired because CBS didn't like Fuller's scripts. But, the hiring of a new writer must mean all the episodes aren't completely written. Whether that means major changes are in store from Fuller's original idea for the show in unclear.
Either way, based on a photo of a Gorn toy Sullivan posted to Twitter from inside the writers' room, it's clear that all the people involved with writing the show are huge Trekkies.
Back in September 2016, Discovery writer Kirsten Beyer told a crowd of fans at Mission New York that "everybody working on the show wants what you want," sending the message that the writers' room was populated by fans. Whether or not that means the mission of the Discovery will change drastically from Fuller's vision remains to be seen.
The release date for Star Trek: Discovery is as of now, not established, though it is expected to be on CBS All Access in late 2017.