Tesla is Suing a Former Employee for Stealing Autopilot Data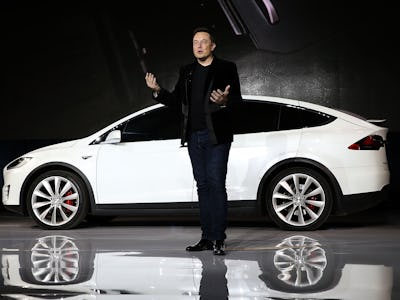 Getty Images / Justin Sullivan
Sterling Anderson, the former director of Tesla's Autopilot, will face litigation from his former employer for allegedly taking some of the company's data when he left, and attempting to recruit Tesla employees for his own self-driving car company. A lawsuit filed today in the Superior Court of California, Santa Clara alleges that Anderson tried to poach Tesla engineers before he joined forces with Chris Urmson, the former head of Google's self-driving car project and started his own self-driving venture.
Anderson allegedly tried to steal away the engineers under his management while he was still at Tesla, violating his contract and undoubtedly annoying CEO Elon Musk to the point of litigation.
Anderson also allegedly used his company laptop to communicate with Urmson, and downloaded company data onto a personal Toshiba hard drive. The lawsuit alleges that backups of the Tesla data were not returned when Anderson departed the company, and that Anderson accessed a document called "recruiting targets" on the company laptop at Urmson's home on January 4 of this year.
Anderson served as the director of the Autopilot program from November 2015 to December 2016.
This doesn't signal a good start for Aurora Innovation, the company Urmson founded. Reps for the company told Business Insider in a statement that the lawsuit was "meritless."
Tesla's meritless lawsuit reveals both a startling paranoia and an unhealthy fear of competition. [Musk's] abuse of the legal system is a malicious attempt to stifle a competitor and destroy personal reputations. Aurora looks forward to disproving these false allegations in court and to building a successful self-driving business.
Tesla has yet to comment on the lawsuit, but we'll update the story if it does.
Correction 1/27/2017: In an earlier version of this story, Inverse mistakenly stated that Anderson allegedly showed proprietary Tesla information to Urmson from his Tesla company laptop. According to the lawsuit, Anderson stored Tesla company data on a personal external hard drive, and that backups of that data were not returned following Anderson's departure from the company. The lawsuit does not allege that Anderson showed Urmson Tesla data on a Tesla company laptop, merely that Anderson was allegedly in possession of backups of Tesla data after leaving the company. The story has been updated to reflect this distinction.