How 'Star Trek' Conflict Will Impact Sasha on 'Walking Dead'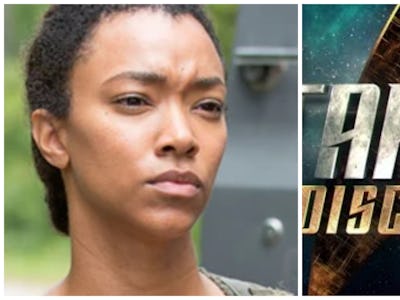 Digital Spy
There's a chance Sasha from The Walking Dead will be reincarnated as Number One aboard the Starship Discovery. But, for Sonequa Martin-Green (Sasha) to make the transition to the helm of Star Trek: Discovery, she'll probably have to give up killing zombies for striking deals with the Klingons.
Martin-Green is the first African-American woman to take the lead on a Star Trek project, making her casting an historic step forward in the Trek universe. But this step comes with a letdown for fans of The Walking Dead: There's a chance Sasha might not survive past Season 7.
Walking Dead showrunner Scott M. Gimple said that he'd be willing to juggle for Martin-Green's role on Star Trek (because — come on — it's Star Trek) "any day of the week" other than Sundays … whatever that means. Gimple essentially left the question unanswered about whether or not Sasha would continue as a regular (or at all) on Walking Dead.
If Season 7 of TWD follows the example of the graphic novels of the same name by Robert Kirkman, Sasha isn't going to last much longer.
Sasha's character is based on a woman named Holly from Kirkman's story. She's turned into a zombie after being captured by Negan and his saviors. Holly's actually delivered back to Alexandria with a bag over her head and is assumed to still be perfectly fine until the bag is removed. It's an upsetting outcome, to say the least.
If Sasha's time on TWD really is coming to an end then hopefully it's not as gruesome a time as Holly's. But, considering Season 7's track record for violence so far, that seems unlikely.
Here's to Sasha showing up in a Starfleet uniform relatively unscathed!