The New 'John Wick: Chapter 2' Poster Is Lit ... Literally
If you light John Wick on fire, he's going to explode.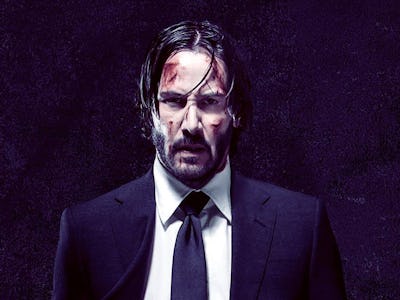 Lionsgate
Did you guys hear that John Wick is back … again? Yeah, we're thinking he's back again. John Wick: Chapter 2 is set to hit theaters on February 10, and just to make sure everybody gets the memo that the second installment in the continuing adventures of the best assassin to come out of retirement twice — he's like a hitman Michael Jordan — the good people at Lionsgate have released a new poster. If you had any doubts, well, Chapter 2 is going to be lit.
As you can see below, the Wick man's tie looks like it's on fire, which is a major assassin's fashion no-no. We know J.W. wouldn't let some errant flames ruin his perfectly tailored suits. Instead, the burning bespoke necktie is perhaps the sickest visual pun to ever be put on a movie poster.
Wick is a lit fuse, and he's about to go off.
Not much in the way of solid plot details are known about Chapter 2 at the moment, obviously to save the insanely kick-ass moments for when you watch the actual movie. But the sequel sees Keanu Reeves as Wick being pulled out of retirement again, which mainly consists of him hanging out with his dog and taking up arms against a fellow assassin who tries to take over the vaunted brotherhood of assassins, of which Wick was a prime member.
The marketing team behind Chapter 2 is really going all in on this visual pun business, as the previous poster featured a mini Wick in silhouette with the gigantic tagline "Relit" guaranteeing this movie is going to detonate in the best way possible.
Allow us to remind you again: John Wick: Chapter 2 explodes into action awesomeness in theaters on February 10.