Why Did Hollywood Let Mel Gibson Off the Hook?
Ten years after sabotaging his career with a series of racist and misogynist actions, Gibson is being given a second chance.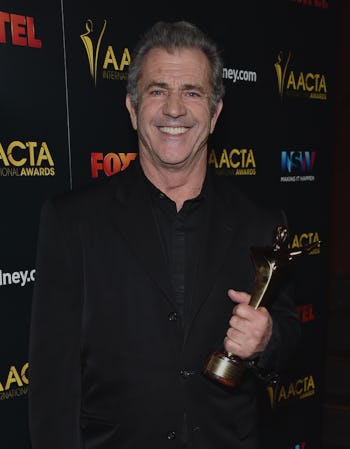 Getty Images / Alberto E. Rodriguez
Juts three days after much of Hollywood participated in Women's Marches across the country, the industry welcomed back notorious domestic abuser Mel Gibson with open arms, showering his World War II drama Hacksaw Ridge with six Oscar nominations, including a Best Director nod for Gibson himself.
Gibson accumulated a lengthy list of offenses in the early-to-mid 2000s, and in promoting Hacksaw Ridge, he chose to focus on making amends for years of anti-semitic comments. In appearances on shows like The Late Show With Stephen Colbert, he's offered mea culpas, mostly for his infamous 2006 rant in which he drunkenly announced that "The Jews are responsible for all the wars in the world!"
The incident put Gibson's career on ice for the better part of ten years, with virtually no directorial work and only a few on-screen appearances. His big comeback, Hacksaw Ridge, stars Andrew Garfield and has made $100 million at the box office, and his nominations prove that even in a year of unprecedented minority representation, the Academy hasn't changed much. Sure, he's apologized for his anti-semitism, but Gibson has done plenty of other awful things without making amends.
We're not even talking about his declaring a female officer "sugar tits," which sounds like something President Trump might say. What Gibson hasn't addressed — and has been far less-discussed during awards season — is the 2010 phone recordings of Gibson threatening his then-girlfriend and mother of his child, Oksana Grigorieva. The actor was recorded confessing that he'd hit Grigorieva while she held their child, telling her that she "deserved it."
He went on to tell her that, "You look like a fucking bitch in heat, and if you get raped by a pack of [racial expletive], it'll be your fault. Alright? Because you provoked it." Then he added, for good measure, "[You're] a fucking little girl with a fucking dysfunctional cunt… You need a fucking bat in the side of the head."
These statements came alongside confirmation that he had broken Grigorieva's teeth twice, and Gibson plead no contest to domestic assault in 2011.
And yet the Academy more or less admitted that they don't care… not that it's a surprise. Woody Allen and Roman Polanski have both won Oscars after being accused of of sexual abuse, and this year, Casey Affleck, who was sued for sexual harassment in 2010, received a Best Actor nomination for Manchester by the Sea. (He denied the allegations.)
Since the announcement, a number of actors have spoken out about both Affleck's nominations, with Constance Wu (Fresh Off the Boat) loudly denouncing the nomination.
"Boys! BUY ur way out of trouble by settling out of court!" she tweeted yesterday when the nominations were announced. "Just do a good acting job, thats all that matters! bc Art isn't about humanity, right?"
Unfortunately, Wu hasn't received much backup from the organizations that might normally be expected to object to the nominations. Inverse reached out to major Jewish and women's rights advocacy groups to see if they objected to the Gibson nomination. We were ignored by Women In Film Los Angeles, the National Organization for Women, and The Jewish Federation of Greater Los Angeles; the Anti-Defamation League at one point promised to connect us with a spokesperson but later decided to "demur."
Have we simply reached a point where we can fully separate the art from the artist? If you're a white guy, the answer seems to be yes.