Tesla Will Release New Cars Every 12-18 Months, Like the iPhone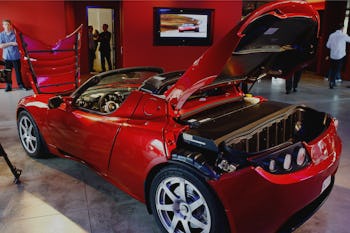 Getty Images / Vince Bucci
If you're thinking of buying a Tesla as a future-proof investment, you might want to look away. The car company's CEO, Elon Musk announced Sunday that the company plans to release major hardware revisions every 12 to 18 months, declaring that anyone who expects major upgrades for older vehicles is "buying the wrong car."
Tesla's strategy bears a striking resemblance to the flagship smartphone market. Take for example Apple: the company releases a new iPhone every year and aims to introduce new features with every iteration. Software updates are pushed out to older models, but ultimately anyone that wants the newer hardware features will have to trade in their device and cross their fingers that it hasn't lost all its value.
The news came in response to a question about older Tesla cars receiving the Hardware 2 upgrade. The new platform features an array of sensors and cameras designed with self-driving capabilities in mind. A future update, aimed for later this year, will enable cross-country autonomous driving, but for now the hardware is only being used for simple Autopilot functions.
But with these major changes, sometimes older hardware revisions turn out more advanced that newer models. Software updates that bring new features may be designed with existing cars in mind, but for newer models, the testing process can sometimes take more time as the company ensures all features are running smoothly.
An example of this is the auto-steer, which was not available on Hardware 2-model cars after the platform debuted in October. Last week, Musk announced that auto-steer would finally reach the newer models through an over-the-air update, filling in the gaps of missing features unavailable on the newer models. Unfortunately, if you thought the electric car future was going to avoid the pitfalls of regular smartphone upgrades, it seems you were wrong.