The 7 Best Sex Books of 2017 
From fiction by Roxane Gay to nonfiction on the science of testosterone, here's your ultimate sex reading list.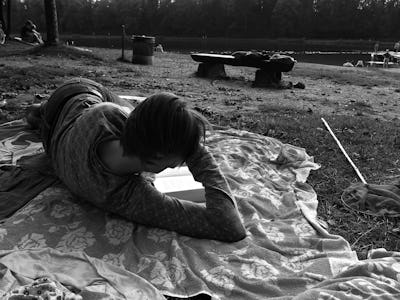 Flickr / Seniju
The world of 2017 could be a difficult and dark year for a lot of reasons, but that doesn't mean it can't still be sexy. And though there are plenty of ways to engage with sexiness in visual media, the printed word remains, perhaps, the sexiest way for the brain, and body, to get excited. From escapist fictional sex-reading, to critical writings about gender and sexuality, here's are the best books coming this year to keep you mentally lubricated.
1. Difficult Women by Roxane Gay
Roxane Gay has established herself as a leading commentator about sex and gender today. Although she's most famous for her essay collection Bad Feminist, her upcoming short story collection is a fictional dive into similar waters. The pages of Difficult Women are populated by characters like strippers and a woman sleeping with a set of twins. The stories brim with humanity and the search for identity — and they acknowledge sex as an integral component in both. Publication date: Out now.
2. Made for Love by Alissa Nutting
This quirky novel comes from the author of Tampa, the provocative gender-bent Lolita-esque story about an adult woman obsessed with teenage boys. Made for Love is simultaneously a wacky sci-fi epic a la Dave Eggers's The Circle and a meditation on love and sex. The heroine is trying to escape a marriage in which her clingy Steve Jobs-like husband uses technology to track her every move. Her journey to find freedom involves trailer parks, sex dolls, and assorted sexual oddities. Simultaneously funny and profound, this novel is about obsession gone awry. Publication date: July 4, 2017.
3. Testosterone Rex: Unmaking the Myths of Our Gendered Minds by Cordelia Fine
This nonfiction book dives into the psychological of gendered behavior and the history of nature versus nurture debates. Fine challenges every cultural assumption about sex and gender, including sex drive and financial behavior. Provocative and illuminating, this book should put an end to phrases like "boys will be boys." Publication date: January 24, 2017.
4. A Separation by Katie Kitumara
This novel is centered around fidelity and intimacy as a young woman re-examines her relationship with a cheating husband. Literary and meditative with far more inner-musings than dialogue, it's perfect for when you're in a contemplative mood. Publication date: February 7, 2017.
5. Juliet's Answer: One Man's Search for Love and the Elusive Cure for Heartbreak by Glenn Dixon
This nonfiction memoir is essentially a male version of Eat, Pray, Love. After suffering a heartbreak, the author takes a journey to Verona, the hometown of Romeo and Juliet. There, he answers letters written to Juliet and chronicles his sense of self-discovery on love, sex, and longing. Publication date: February 7, 2017.
6. The H Spot: The Feminist Pursuit of Happiness by Jill Filipovic
This nonfiction book asks a rather trite question: What do women want? Its ensuing pages, however, are anything but. It lends a serious critical eye to female desire in all its forms and the way society shapes it. While "desire" here applies to every aspect of life, sex is an integral part of it. Publication date: May 2, 2017.
7. Men Without Women by Haruki Murakami
Murakami's latest is a collection of seven short stories about single men. It's brimming with the acclaimed author's typical lyrical yet playful prose and surrealism, but he turns his focus to the topic of male longing. Publication date: May 9, 2017.