The 4 Best Podcasts of the Week
Hello, next 4 years in Trump's America.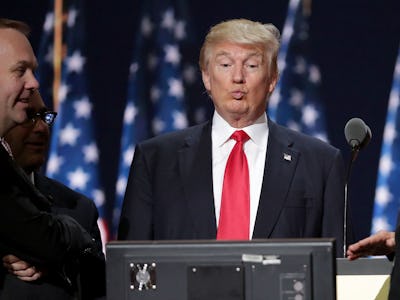 Getty Images / Chip Somodevilla
Keeping up to date on current events feels more relevant than ever after the inauguration of President Donald Trump on January 20. Podcasts are an easy, portable way to stay informed while still going about your day, so we've thrown together a list of the best podcasts of the week in honor of the inauguration. A couple are political and a couple are a little more wide-ranging, but all are supremely relevant and, hopefully, very helpful.
Below you'll find a small but valuable collection of four of the smartest, most relevant podcasts this past week had to offer. As the country faces down the upcoming Trump presidency, a little guidance and extra general know-how can't hurt. So, whether you're fully feeling the effects of the inauguration or hoping to live in denial just a little while longer, here are some ways to best help you cope with the new reality.
Looking to wallow a little longer in your aversion to change (or, y'know, bigotry)? Pod Save America got the last interview with Barack Obama during his time as President of the United States. Sorry in advance for your battered emotions.
Criminal ranks as one of the most popular podcasts out there, and for good reason. Focusing on the currently booming genre of true crime, it delves into a different story every couple of weeks, and looks at the titular criminals from unique angles. This week's episode, "In Plain Sight," focuses on a pair of criminals who were forgotten, but always present.
If you need a laugh, here's your answer. As serious an illness as depression is, sometimes laughing about it and talking through the numbness is the best antidote. Let eight comedians discussing common symptoms and struggles help you break away and feel a little less alone in the world.
1A is NPR and WAMU's podcast that champions the first amendment and "America's right to speak freely." In the "Inauguration Day" episode, host Joshua Johnson discusses this week's news leading up to the January 20 inauguration of President Trump.