Josh Brolin Reveals Thanos's Imposing New 'Infinity War' Look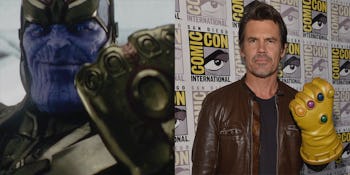 Marvel/Getty Images
The terrifyingly powerful supervillain Thanos has mostly lurked in the shadows of the Marvel Cinematic Universe, but in the next Avengers movie, Infinity War, he's going to step into the spotlight — and he's going to have an updated look.
Josh Brolin, the actor who has provided the voice and motion-capture performance for the purple baddie, shared an Instagram on Thursday that offered up a great view of Thanos's face. The image, a side-by-side comparison of Brolin and Thanos, shows that the character is going to look more like the actor than he has in previous appearances. Thanos' gigantic chin with its signature crevasses appears to have been shrunk slightly, and he looks a little more human overall. If anything, Thanos now resembles an alien version of Breaking Bad's Walter White.
Thanos also looks like a mean son of a bitch. In past movies, the character has been imposing but he often seems uninterested or bemused. Now that he's ready to take direct action, he looks merciless. This read is backed-up by Brolin's Instagram caption, which just reads "next."
We'll surely see more of Thanos once official images and trailer for Avengers: Infinity War start to drop before the film's premiere on May 4, 2018.