'League of Legends' is About to Get a Much Bigger TV Audience
'League of Legends' is going big.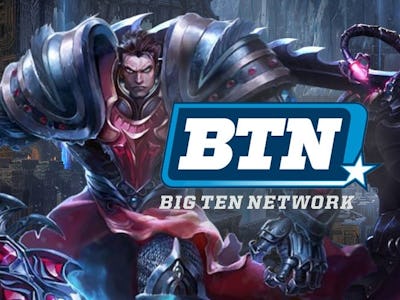 PVPLive
League of Legends is easily a video game juggernaut worldwide, with millions of fans devoted to its competitive scene. While prize pools and audience sizes for major League of Legends events grow every season, the game still has yet to break out into mainstream sports. There's been a shift lately as professional athletes and other big names in the industry have begun to invest in their own esports teams. But League of Legends could be getting its biggest break yet with a new deal that developer Riot Games has made with the Big Ten Conference.
The partnership will see most Big Ten (Division I) schools gather League of Legends teams. Some schools already have informal teams, with some even offering scholarships for players to come and represent the university in these small, grassroots leagues. With the new BTN League, however, college leagues will receive some legitimate structure and broader publicity. These new teams will compete in the BTN League of Legends Season starting January 30, with one school claiming the championship title. Matches will air online on BTN2go and Riot's own stream, and the championship itself will air on the Big Ten Networks.
College esports might not seem like a huge deal until you consider the Big Ten Conference and the major $2.6 billion dollar TV deal it just signed with a number of major sports networks. Last year FOX, ESPN, and CBS split up the rights to broadcast a number of Big Ten sports on their networks by investing in multimillion-dollar media packages. So when we hear that the BTN League of Legends Championships will broadcast on BTN networks, that means that League of Legends will be getting some serious airtime on the United States' biggest sports networks.
While it's limited to just the Championship matches for now, this is a big step in granting esports mainstream sports coverage and an even wider audience. As esports continue their truly meteoric rise to the forefront of gaming, we're seeing a major shift in how these events are produced and broadcast. BAMTech and Riot Games recently signed a deal in December, with the former MLB streaming tech company gaining exclusive rights to create a League of Legends streaming service. The BTN deal is the next big step as we see esports shift into the spotlight, moving from Twitch to cable.