Ariana Grande Is Officially a 'Final Fantasy' Hero
Ariana Grande is giving pop star Yuna some competition.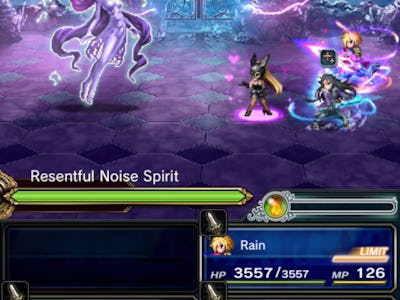 Square Enix
In a way Final Fantasy Brave Exvius was absolutely made for longtime fans, bringing many classic characters to mobile devices. Now Square Enix is reaching out into the wider pantheon of pop culture: Ariana Grande is now a playable character in Final Fantasy Brave Exvius. The pop star dons her Dangerous Woman costume and fills the role of Dangerous Ariana, defeating fantastical baddies with her musical prowess and charms.
Players can unlock the new character by successfully completing the "Dangerous Woman Tour" on Easy difficulty, although you only have until February 2 to do so. The same time limit applies to the chance to collect exclusive equipment and items for Dangerous Ariana.
The Final Fantasy-fied version of Ariana Grande's single, "Touch It" also debuts in the game today and will be featured throughout the game for the duration of the event. Earlier in the month, we got a look at how Square Enix remixed the track to give it that sweeping, orchestral feel typical of a Final Fantasy soundtrack. The company also released an official music video of the new track today.
Final Fantasy Brave Exvius is a free-to-play game for iOS and Android devices. It's a turn-based RPG that includes many familiar facets of the Final Fantasy series including popular characters, magic spells, and summons.