'Rogue One' Comic Will "Mix" Different Cuts of the Movie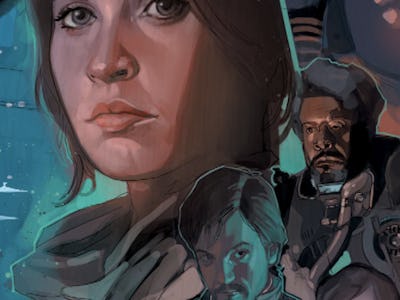 Emilio Laiso/Marvel
The hidden activities of Jyn Erso, Cassian Andor, and the rest of the brave Rebels who stole the Death Star plans will finally come to light this April. In a new comic book adaptation of Rogue One, several scenes not in the final cut of the movie will find their way into the pages of the comic.
Writer Jody Houser spoke to Marvel.com about the process of adapting Rogue One: A Star Wars Story into a comic book miniseries. When asked about new material — possibly from different cuts of the film — she said the comics would incorporate "a number of ideas for moments that didn't fit in the film," and that "it's really a mix of material from existing versions of the story, as well as new scenes."
For Star Wars completists, this is the next best thing to seeing an actual alternate cinematic cut of Rogue One; one that maybe even existed before the Tony Gilroy reshoots.
Obviously, there's no way Houser can present a version of the story that directly contradicts the film or changes the reshoots. But by mixing in deleted scenes or abandoned ideas, the Rogue One limited comic series may offer answers to continuity questions that the final film left unresolved.
The limited Marvel comics run of Rogue One will be released in April. It is written by Jody Houser and illustrated by Emilio Laiso.