Harley Quinn Might Appear on 'Gotham' This Season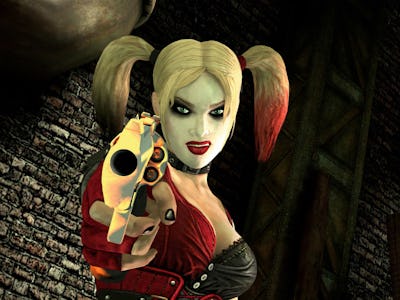 DC Entertainment, Warner Bros.
DC's most popular clown-themed villain might make an appearance on the current season of Fox's Gotham, and no, we don't mean Joker.
In a recent interview with TV Guide, Gotham executive producer John Stevens revealed that Harley Quinn could make an appearance way earlier than anybody realized saying, "We might see [her] in Episode 22," adding that Quinn could be a "launching point" for the events of season four.
Gotham plays pretty fast and loose with the Batman mythology, so Harley Quinn could be introduced as either a new character, or could be layed by anyone of the existing cast members. Many fans have speculated that Barbara Kean, Jim Gordan's ex-fiancée-turned criminal psychopath.
Kean is currently one half of the Sirens, a criminal duo running Gotham's most popular underground nightclub for criminals. However, her personality (post-mental breakdown) lines up pretty closely to how Harley Quinn has been typically portrayed. While it's anyone's guess who Harley Quinn will end up beaing, anything can happen on Gotham.
Since her debut in Batman: The Animated Series, Harley Quinn has been one of DC's most popular characters. She recently made her first film appearance in 2016's Suicide Squad where she was played by actress Margot Robbie. While the film itself received mixed reviews, the film proved to be a financial success, earning close to $756 million worldwide.
Robbie and Suicide Squad director David Ayer will also be reuniting on a Harley Quinn spinoff film called Gotham City Sirens, which borrows its name from a comic series where Quinn, Poison Ivy, and Catwoman teamed-up as a criminal trio. There's a strong possibility that the film will introduce both of those latter characters into the new DC Extended Unierse.
However, that film is still some ways off, while Gotham's Harley Quinn will reportedly be seen by the end of the show's third season.
Gotham airs Tuesdays on FOX at 8 p.m. ET / 7 p.m. CT.