Nevada Driver Finds Out the Hard Way That Even Teslas Still Need Keys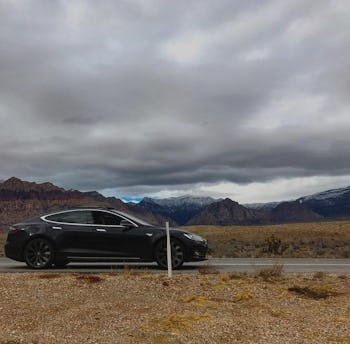 Ryan Negri/Instagram
It's evident that Elon Musk takes pride in Tesla being the de facto disruptor in the auto industry, but even they still need keys.
Take the case of Ryan Negri, who shared his story on Instagram Sunday of how he found himself stranded out in Nevada's Red Rock Canyon, six miles from home, when his phone lost cell reception.
It sounds bizarre, but it's one of the Tesla's big selling points. The company offers an app for iPhone and Android that allows for "keyless driving," where all you need to do to drive the car is open the app and press the button. Unfortunately, Negri didn't think to take his physical key with him, so he drove into the canyon and, before turning around to go home, decided to make some adjustments to his dogs' car bed.
Unfortunately, when he stopped the car, he couldn't start it again as the phone couldn't connect to the car. The service depends on cellular connectivity to work, a slight oversight considering large areas of the U.S. lack cell reception. In the end, Negri had to get his wife, Amy, to run for two miles until she got cell service. The car also needs cell service, though, so Amy called a friend to retrieve the fob and bring it out.
The photo and its accompanying story was shared by "Internet of Shit," a Twitter account that documents the worst gadgets in modern life that, for whatever reason, come with internet connectivity. This sparked a debate over whether Negri's faux pas counts as a flaw on Tesla's part. Lee Hutchinson, senior technology editor at Ars Technica, thought Tesla was in the clear on this one:
Negri can be forgiven for thinking that his smartphone was a dependable alternative to carrying a key, and it's a vision phone makers have expressed before. A do-all smartphone, so you don't even need to carry your keys!
As Negri learned the hard way, we're not quite there yet.