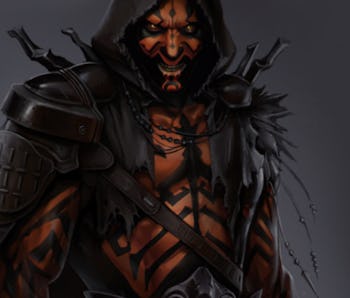 Gaming
Darth Maul Ran the First Order in a Cancelled 'Star Wars' Game
kotaku/Thomas A. Szakolczay
If Supreme Leader Snoke wanted the First Order managed a little bit better in Star Wars: The Force Awakens, in an alternate dimension he might have been able to swap Kylo Ren out for Darth Maul.
Around the time Lucasfilm was sold to Disney in 2012, the now-defunct LucasArts game developer hired artist Thomas A. Szakolczay to create concept art for a game centered around the former Sith Lord. According to Kotaku, the game would have taken place sometime after the events of Return of the Jedi, and featured Darth Maul working for a "New-Empire" that is very similar to the First Order in the new Star Wars canon.
Because parent company Lucasfilm halted production of all internal development of games in April of 2013, nearly every Star Wars video game in development at that time was effectively cancelled, including the Coruscant underworld Boba Fett game Star Wars: 1313 and Star Wars: Maul.
Szakolczay posted the pictures to his Instagram and ArtStation pages, which were reposted by Kotaku on Monday. Because the game would have taken place after Return of the Jedi, this would have been a newer incarnation of the cyborg Darth Maul whose post-Phantom Menace backstory originated in The Clone Wars animated series. Unlike the current canon Maul in Rebels, this version of the horned and tatted-up Dark Side user shows him more confident and definitely in charge.
The game would have also featured new versions of Stormtroopers, and Szakolczay's design is surprisingly similar to the New Order Stormtroopers from The Force Awakens and the Death Troopers from Rogue One.
While it seems unlikely the current canon will allow Darth Maul to survive past the events of A New Hope, these images do give a glimpse into an alternate Star Wars world in which Darth Maul returned to fight off the triumphant Rebels.