The 8 Best Pokémon Spin-offs for Aspiring Trainers
How to continue your Pokémon journey.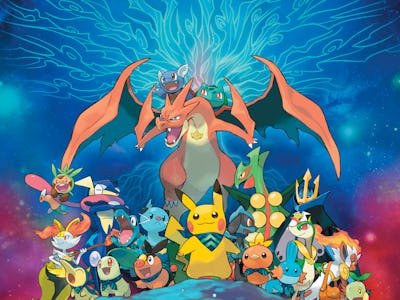 Nintendo
In 2016, Pokémon Sun and Moon ushered trainers around the world on a new journey through the Alola region. Players have made plenty of new friends, discovered new species of Pokémon, and learned a few secrets about new legendary Pokmon. With that journey likely nearing the end for many, players are looking for new ways to experience Pokémon. Thankfully, the Pokémon Company has brought the Pokémon experience to fans of all ages by creating several spinoffs over the years — some better than others..
Here's the best Pokémon spin-offs to dive into once you've finished Pokémon Sun and Moon.
The Pokémon Trading Card Game
The Pokémon Trading Card Game (TCG) has been around since the beginning of the Pokémon franchise, bringing trainers together from across the globe to share their mutual love of Pokémon. Just like the video games, the TCG is focused on collecting, trading, and battling with characters from the Pokémon universe — relying on cards instead of pixels.
Pokémon Snap (Virtual Console)
If you're looking to enjoy a bit of nostalgia, Pokémon Snap is a trip worth taking on the Wii U Virtual Console. Released on January 5, Pokémon Snap plays like a classic shooter that keeps you on a roller coaster ride as you travel through various biomes and photograph your favorite Pokémon.
Pokémon Pinball
Released on the Game Boy Color back in 1999, Pokémon Pinball was an experience like no other on the handheld. Regarded as one of the best pinball games on the Color, it features both a Red and Blue version of the table, each with their own set of Pokémon-themed obstacles and bonuses scattered about.
Hey You, Pikachu!
Hey You, Pikachu! is a Nintendo 64 game that uses a voice recognition unit to allow players to directly communicate with Pikachu. While relatively limited in scope, the game featured multiple stages that allowed players to pick up items from the world, issue commands to Pikachu, and experience the world of Pokémon from a completely new, but somewhat glitchy, perspective.
Pokémon the Series: Sun & Moon
The Pokémon anime series has been around for quite some time, often following along with the release of the most recent video game. The latest in the series is a companion to Pokémon Sun and Moon, following Ash Ketchum has he heads off to the Alola region and becomes a student at the Pokémon School of Melemele Island.
Pokémon Stadium
For many, Pokémon Stadium will forever be remembered as the first time we saw our favorite Pokémon from Pokémon Red, Blue, and Yellow in 3D thanks to the power of the Nintendo 64. Instead of focusing on a main storyline like the original games, Pokémon Stadium featured on a series of competitive battles that increased in difficulty as you completed tournaments with your team of Pokémon.
Pokkén Tournament
Created by the developers of Tekken, Pokkén Tournament is an unusual twist on the Pokémon franchise. Originally released in Japanese arcades, this Wii U exclusive brings fan-favorites like Charizard, Pikachu, and Lucario into a fighting game filled with complicated combos, devastating attacks, and adorable battle cries.
Pokmon Super Mystery Dungeon
Instead of the usual RPG focus of the main Pokémon video games, Super Mystery Dungeon has players assume the role of a Pokémon. They're then joined by Pokémon partners to journey through procedurally generated dungeons filled with enemies, traps, and puzzles they must navigate and solve to save the Pokémon world.