River Song's Entire Story on 'Doctor Who' Explained in 5 Minutes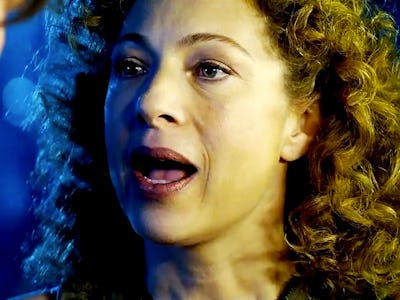 @spaceshoup/Twitter
River Song has been a vital part of the Doctor's life for three of his most beloved faces, and a new fan video is looking to pay tribute to her role, in not only the Doctor's life, but the fate of the universe itself on Doctor Who.
Twitter user spaceshoup, whose Twitter bio describes her as a "lawyer in daylight/fangirl in moonlight," tweeted out a River Song (played by Alex Kingston) tribute video on January 3 that outlines the entirety of River's story.
From the moment fans met River as a professor of archaeology in Season 4's "Silence in the Library" and "Forest of the Dead" to her final time with the Doctor at the Singing Towers, River was equally beloved and controversial. River's fate has always been tied tightly to that of current Doctor Who showrunner Steven Moffat — he first wrote River into the series — and it felt decidedly right for her time to end with him when Moffat leaves Who behind after Season 10.
The video is a touching, teary-eyed tribute to River and her impact on the Doctor, ending with Peter Capaldi's 12th Doctor urging the world to "be happy" despite the difficulties to be found in life. And that was always River's best quality: her ability to smile and find amusement and happiness in every moment, even in the very end.