Watch Tesla's New Ludicrous Plus Mode in Action on the Drag Strip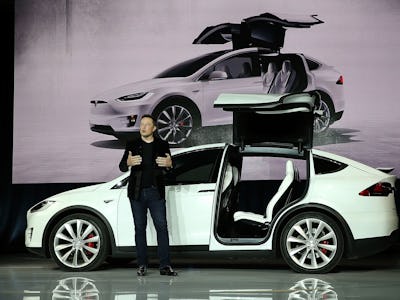 Getty Images / Justin Sullivan
Tesla's new Autopilot update enables Ludicrous+ mode, which makes the whole thing faster. And fortunately for all of us, someone already got an updated model on the drift track.
On Sunday, Tesla CEO Elon Musk confirmed that a new update for Hardware 2 (HW2) will roll out for the first 1,000 cars. If it works, it will be activated in the rest of the cars. The new update also improves Hardware 1 and enables Ludicrous+. With Ludicrous+, the car can accelerate from 0 to 60 mph in 2.4 seconds. This is faster than the original speed of Tesla's Model S P100D with Ludicrous mode, a vehicle that Tesla dubbed "the quickest production car in the world." That car accelerates from 0 to 60 in 2.5 seconds.
DragTimes looked at the new mode and tested it out. Its video also shows how to unlock Ludicrous+. To do so, hold down the 'Ludicrous button on the screen for about five seconds. A warp speed effect screen will appear, and then you will be prompted to answer the question, "Are you sure you want to push the limits?" It also warns that that the update will cause accelerated wear of the motor, gearbox, and battery.
When testing, DragTimes found the car accelerated from 0 to 60 mph in 2.46 seconds. The Ludicrous+ also picked up 35 mph more horsepower.
Back in November, Musk promised a Ludicrous Easter Egg that "uncorks the full performance". This is not the first time Tesla has installed an Easter Egg into its software. There's also one that lets you take a virtual adventure to Mars.